Special Note: This is in no way an attempt to hit back at the poor souls who are in spotlight in this situation. I have the utmost respect to Kanye West as an accomplished artist, considering the fact that I am a mere blogger about him. So I never try to talk smack about any artist, his work or his fans. But this is just sad!
SPECIAL SPECIAL NOTE: This is no way a reflection of all Kanye West fans. This is just aimed at everybody (be Kanye West fans or otherwise) who doesn't know who Paul McCartney is. All true music fans would equally admire both of their music.
So let's get to the point. To the much delight of Kanye West fans, Kanye released a brand new song just as the new year dawned. It is a beautiful song, no questions about it. It opens up a whole new emotional and vulnerable side of Kanye we have never seen before. The track is titled "Only One" and it features Paul McCartney–SIR Paul McCartney with a beautiful organ performance.
Apparently the "Yeezus" fans and the 'cool music' fans have never heard of Paul McCartney. Sir Paul McCartney to say the least. I'm not going to describe who he is, because… you know… it's Paul McCartney!
So after the song release Kanye West fans, naturally, Tweeted about it. These Tweets take the 'dumbo of the year' (sorry for the negativity) award quite easily–and 2015 is 3 days old!
They didn't just wonder who Paul McCartney is, they said Kanye is helping out a poor lad with his musical career!!! WOW
Take a look at the Tweets by Kanye West fans asking who Paul McCartney is…
Enjoy our sarcastic comments in each of the Tweets too. LOL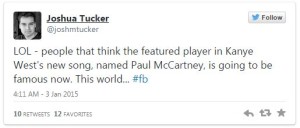 *drum rolls* and the winner is…
"Oh sh*t sorry! I didn't know Paul McCartney or whatever was apart of The Beatles! Who knew people remembered bands from the 40's!"
This guy defends himself too!!! Good for you! LMAO
Twitter did not stay silent either. They hit back hard. Here are some of the replies people gave to Kanye West fans.


Well, anyway, that's how the new year happiness washed away for those Kanye West fans. I highly suggest you use Google before you make comments about something on a social network–specially when commenting about a KNIGHTED musician who will probably be remembered for another millennium to come.
Here's a complete list of his awards and achievements from Wikipedia, just in case.
Leave a comment about what you think about all of this. We would love to hear your sarcastic comments!