Taylor Swift has been having some awesome few weeks. Her new album '1989' got launched and people are still going crazy over it. Also '1989' is headed to give Taylor a world record. She has been on all sorts of mass media promoting her album and performing. She has been interactive with her fans via social media. So it has been a very active month for Taylor. To end it on an even higher note, Taylor Swift attended a radio show in the Halloween spirit. What was she? She was a "PEGACORN"…
Pegacorn: [noun] A mythical creature dating back to October 31, 2014 given birth by the imagination of Taylor the Swift in celebration of the Halloween festival. A Pegacorn is a combination of a Pegasus and an Unicorn. ~ JustRandomThings Dictionary
Basically she dressed up Pegasus wings on to a Unicorn costume. Here is Taylor Swift in the Pegacorn costume…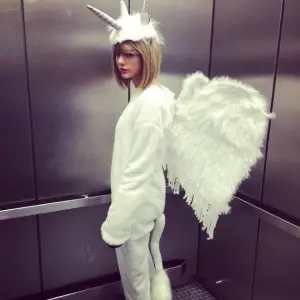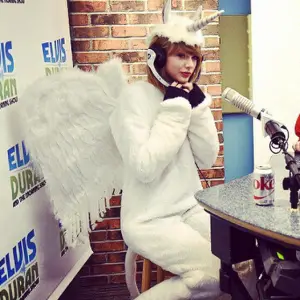 Doesn't she look adorable?
If the Swifties even got a glimpse of this costume even a day before Halloween this year, all the Halloween parties would have been filled with Pegacorns. I'm sure next year there will be a lot of Pegacorns as well. But then Taylor will come up with another hybrid of adorable creatures and name him as well.
Oh almost forgot, Taylor posted the first picture on Facebook with an awesome caption.
"Cause, darling I'm a nightmare dressed like a PEGACORN. #HappyHalloween!"
LOL. That's when she introduced the world Pegacorn. I'm pretty impressed and more in love. Dressed in the Pegacorn costume Taylor Swift attended some radio talk show? I still don't have information on that.