Eminem has come out of hibernation once again to collaborate with yet another industry leading artist. "The Hills" by The Weeknd has been sitting on top of music charts worldwide. The single from 'The Beauty Behind The Madness' album has it's own groove-which only The Weeknd can produce. It's surreal yet hot.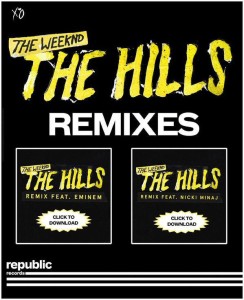 The Weeknd is supposed to perform live on Saturday Night Live on 10/10/'15 (hosted by Amy Schumer) and before going on stage, he released the mixtape for "The Hills". Not only one, but two remixes with two of the most popular artists in the world. The Hills Ft. Eminem and The Hills Ft. Nicki Minaj are now available on iTunes/Apple Music. If you want individual tracks, you can buy so too. But The Hills remix album is just $1.99!
Listen to "The Hills" Ft. Eminem
"The Hills" Ft. Nicki Minaj
Eminem, although stuck in Detroit, is still on top of the Rap game. The verses on this remix track is proof of that.
Said you want a little company
And I love it cause the thrill's cheap
Said you left him for good this time
Still if he knew I was here you'd wanna kill me
But it's time you meet the real me, filthy
But wasn't always, will be
Your pill be, feeling I'll still be
Your addiction, you can your touch a prescription, but don't fill me
I let you see my dark side but like a mic check, you got one too
So when the sparks fly, we hit the flight deck and got sprung pew
Like an ejector seat, from an F-15
But tonight we don't need those pills, just the effect of each
Other wherever we go film
Cause I will want your ex to see
(Get it?) that…
Nicki Minaj on the other hand delivers her usual sultry verses.
Remember that time that I showed up, with just panties under my coat?
High heels they just knee high, and my legs was grippin' that throat
You told me this and I quote, cause we popped pills and you smoked
You said just stuff got me strung out, it was like doin' some lines of coke
You always say it's the best that you ever had, in your life
And you always playin' it good, when we be speedin' off in that Wraith
Two vastly contrasting tones on one single track. That's the beauty of these two remixes. If you enjoy the two new remixes, let us know by leaving a comment below. Share this with your friends.