So the Victoria's Secret Angels walked the Earth for one last time in 2014. The VS Fashion show which was recorded several days ago, officially aired on CBS last night and we still can't get over it. Several years ago the VS Fashion Show was merely about angels (still gorgeous) walking down the ramp and a lot of fashion experts watching it. Now it has turned into a more entertainment event that attracts a lot of views from all over the world. Maybe the inclusion of music performances from artists such as Taylor Swift (VS Fashion Show 2013 and 2014), Ed Sheeran, Ariana Grande and Hozier (all Grammy 2015 nominated artists), have helped make this show a global event.
We got a sneak peek of the fashion show from the fans in attendance and we did compile a huge article on the updates as and when they released.
So finally we have the full show and it can be viewed right on their official website.
Victoria's Secret Fashion Show 2014 Fantasy Bra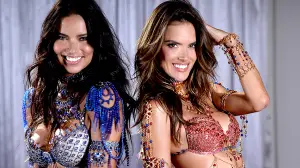 Each of these undergarments worth $2 million!
"It's on our Dream Angels frame, so it's a bra frame that our customers are very familiar with, and [Mouawa] jeweled them and they're custom-made for each of the models. So they started working on these bras back in the summer — it takes several months to do. But what he did very different this year is he did an outfit, so they each have neck pieces and arm pieces and body pieces. So it's really a jeweled body piece beyond just the bra."
What do you think about Taylor Swift's performance at #VSFashionShow 2014?
[polldaddy poll=8513116]