"Easy" by Son Lux is one of the most hauntingly beautiful songs I have come across. Truth be told, only Lorde's cover version of the song made me aware of the original version. Initially I believed Lorde's version to be the original!! Anyway I checked out the original version done by the amazingly talented singer/producer Ryan Lott better known by his stage name 'Son Lux'. He classifies himself as a alternative hip hop/post rock artist. Of course Ella Marija Lani (Lorde) needs no introduction (if you do, go to her Wiki page).
It is not an easy task to compare an original version of a song versus the covers that follow it. I always give an upper hand to the original version because that's where the real music was born into this world, and a cover version is a mere personal restatement–no new music creation! But some cover versions could actually take on the originals–like for "Easy" track we are discussing.
Watch the Official Music Video for "Easy" by Son Lux
I have no clue why all the rope bondage was necessary. The video is clearly trying to show the nature of human beings–there is always two levels–the outer angel and the inner demon.
Listen to Lorde's Cover Version of "Easy" by Son Lux
So there you have it. The two versions and I'll let you vote on it before we proceed any further.
[polldaddy poll=8563393]
In my opinion, I may have to give a slight edge to the cover version on this track. It's not only about which version 'sounds' better, but it's about how well you feel the song (hence the poll topic 'feels'). Because let's face it, both versions do sound amazing. And Ella has not changed the music from the original, or the rhythm or anything. So which song gives you the feels? For me, Lorde's cover version.
Buy "Easy" by Son Lux on iTunes / Amazon
I believe Lorde has the perfect pitch and creepy tone to do justice to these haunting, low key songs. And with the kind of talent she is, she always delivers.
Another testament for this would be the relative popularity of each version. The original by Son Lux was released on October 29, 2013 and Lorde cover was released on March 4, 2014. The audio track released on YouTube by Son Lux has accumulated a little over 417,000 views. Lorde's version which was released after 5 months has accumulated 345,000 views. So clearly Lorde has a better pace.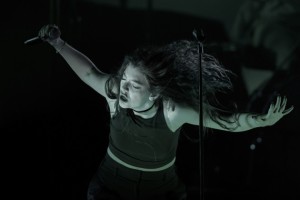 That's my take on the two versions. Even though I think Lorde version is better, massive respect to Son Lux for coming up with this chilling piece of music. Let us know what you thik about the two versions in the comments below.