The Weeknd delivers again! This new song titled "Earned It" is the new theme song from the 'Fifty Shades of Grey' movie coming out on February 14, 2015. The Weeknd vocalist, Abel Tesfaye has the perfect voice and talent to give life to a sexy song.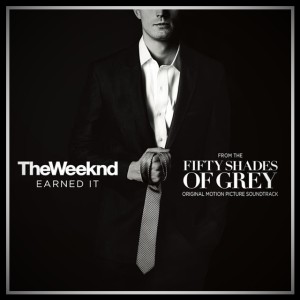 The slow beat, rhythmic, and some romantic lyrics compose this song. The lyrics subtly hint towards the theme of the movie.
I'm so used to being used
So I love when you call unexpected
Cause I hate when the moment's expected
The first line itself hints to the S&M in the movie. And the second and third lines hint towards the spontaneity of their sex life (or maybe the relationship in general)?
On that lonely night
You said it wouldn't be love
But we felt the rush
It made us believe it there was only us
Convinced we were broken inside, inside
Anastasia doesn't realize her inner beast until she meets with Christian Grey. Even though she didn't believe in the thrill at first, she felt the rush too. 'Broken inside' is possibly a reference to the nature of their relationship in the first book of the trilogy on which the upcoming movie is based on.
Buy The Weeknd's "Earned It" on iTunes / Amazon
If taken out of context "Earned It" is a song about finding true love. The singer was lost before he met her. He was being used by every girl before her, and mistreated. Now that he has found her, his life is complete–he is no more 'confused'. It's like magic to him. And he goes;
Cause girl you're perfect
You're always worth it
And you deserve it
The way you work it
Cause girl you earned it
Girl you earned it
Listen to "Earned It' by The Weeknd from The Fifty Shades of Grey movie
How excited are you for the movie coming on The Valentine's Day 2015? What are your plans with your special other one on this day?
Leave a comment on what you thought about the new song and your interpretation of the song.