The 87th Oscar Awards have concluded. Many a motion pictures, actors, actresses, directors and producers were victorious last night and for us, the whole event was already a victory when we got to know the one and only Neil Patrick Harris was hosting the show. NPH is such a talented artist–be it acting, dancing, drama and singing, and he is a bit of a magician too. His stage theatricals are always on point, and that's what he delivered at the opening monologue at 2015 Oscars night, with a little help from Anna Kendrick and Jack Black.
Neil Patrick Harris performed a monologue– a monologue about "moving pictures". He welcomed the audience to the 2015 Oscars night and then went on to give out a message about how powerful and effective "moving pictures" could be and why we celebrate the best of the best of them. NPH took us on a tour of some of the best movies that have ever been created, all through a masterfully crafted monologue.
Watch NPH's Opening Monologue at 2015 Oscars Ceremony
https://www.youtube.com/watch?v=lMJVfwqvD4E
Does Oscars Honor the "Best and the Whitest"?
There was quite the stir about the Oscar nominees this year. If you want to get in the loop with that information do a Google search or use #OscarSoWhite to find out more. NPH did not forget to address this situation in his monologue at 2015 Oscars, maybe as an attempt to ease out the tension. We don't know how well it worked, but the audience burst into a laugh when he started the monologue saying "Welcome to the 87th Oscars. Tonight we honor the Hollywood's best and whitest.., sorry, brightest…". LOL.
Anna Kendrick joined Neil Patrick Harris to support his monologue. She was dressed up in a costume similar to her appearance in "Into The Woods" movie. There was a little bit of a Cinderella reference too–with the whole shoe scenario.
Jack Black jumped in middle of the monologue and tried to 'sabotage' it. He cleverly performed a role of a villain, trying to point out the negatives of Hollywood. As he says, movie sequels are pretty bad for the business. He specifically referenced to all the superhero movies which seems to have endless sequels and storylines. Then Neil Patrick Harris pulled a classic NPH-move to silence Jack Black and Anna Kendrick threw a shoe at him and got him out of the stage. LOL.
The end sequence of the monologue was quite epic too.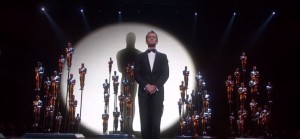 He created the 'illusion' that himself and people like him are in fact the Oscar awards is made up of. It was quite brilliant.
We have news that the rest of the award ceremony was quite eventful, with NPH stripping, performing some live magic tricks and what not. For now, we are going to leave you with the amazing opening monologue he did. He is truly a musical genius, an even better actor. Here's hoping for more events hosted by the "legen-wait for it-dary" Neil Patrick Harris.