The latest version of Android came out yesterday worldwide. As we expected it is yet another colorful and tasty treat. This time it is Android Lollipop. It is also code named as Android 5.0 and Android L. Why a whole new number (version 5.0)? Because Android Lollipop is a whole lot different from its predecessor Android KitKat. There are a lot of new features and improvements and we will try to go through the main ones here after.
Drastic Change in the GUI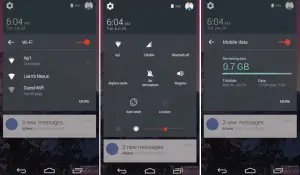 The new GUI seems to have ironed out the previous KitKat's GUI. By ironed out I mean mellowed down. it's smooth, 2D-ish, and simple. The Lollipop UI is more user friendly. It's natural, vivid colors, bright and easy on the eyes.
2. Lesser Disruptions
Now you can do anything you want without getting disturbed by anyone. You can play a game and not worry about sudden incoming calls that used to cut down your gaming experience. You can select whether you want calls to come through when you are busy with your smartphone.
Also you can assign priority to different people and tasks so that only they will be able to disturb you. Let's face it, no matter how you enjoy your gaming, you CANNOT miss a call from your mother or your girlfriend. The same goes to the phone notifications-they can be filtered as to what you want to be disturbed by and what you don't want to be disturbed by.
You can respond to messages from your lock screen itself-so that you don't have to unlock the phone everytime you get a message from your girlfriend/boyfriend. But again, the choice is up to you to set which and which messages you want to interact in this way.
3. Extended Battery Life?
I don't know about you, but my Samsung Galaxy S4 is pretty bad when it comes to preserving the battery life. I'm sure all of you have the same problem-which made the Android team to act about it. They came up with an aggressive battery saving mode that they say could save up to 90 minutes of battery life. Emphasize on "Up to" which means it is not a guarantee that the battery life will extend to 90 minutes. It can vary.
Another two battery related features that were long overdue comes out with Android Lollipop. One is you can see the estimated time left for the smartphone to fully charge.  The second feature is how much time is left on your battery before it needs to be recharged.
4. Screen Pinning
This is an exciting new feature that enables us to share our smartphone's workplace with another device, so they can use it. Kind of like Group Play, but better.
5. Faster and Smoother Performance
Android L guarantees 4x more performance than its predecessor. This we will have to see after installing Lollipop on our devices. Even 2x faster performance would be awesome. Again, the GUI is smooth, rich colors and high resolution. Also supports 64bit devices.
These are some of the major improvements that we get to enjoy with Android L, Android 5.0 or Android Lollipop. There are a LOT more stuff, which can be read on their official website. For me, these additions will make my smartphone experience much better. As per unofficial reports Android 5.0 will be available for Samsung Galaxy S4 and upwards.