"Dress" is the twelfth song off of Taylor Swift's sixth studio album 'Reputation.' This song breaks the good-girl persona of Taylor Swift as she gets very sexual in the lyrics. In a way these explicit lyrics are in-line with the theme of 'Reputation' which is that the old Taylor is dead and gone and a new Taylor is born who isn't afraid to express her feelings about everything.
"Dress" clearly speaks about Taylor Swift being undressed. This could be another song gifted to her current boyfriend Joe Alwyn, whom she seems to be madly in love with. Both "Gorgeous" and "Delicate" songs are about this blue-eyed Brit boyfriend.
Lyrics to "Dress" by Taylor Swift
---
Buy 'Reputation' Album on iTunes and Amazon
---
Since this is the most sexually explicit Taylor Swift has gotten after "I Don't Wanna Live Forever" with Zayn, it would be interesting to go through some of the lyrics.
Lyrics Review and Song Meaning of "Dress"
"Dress" from 'Reputation' album would be the most explicit Taylor Swift has got in a song lyrically. She is talking about a dress being ripped off of her by her lover.
Our secret moments in a crowded room
They got no idea about me and you
It is very unclear if the first verse was taken from personal experience of Taylor, which is highly unlikely.
Another important feature of "Dress" is that the pre-chorus is an almost rap verse. This is the first time we hear Taylor Swift coming closer to a hip hop beat in one of her own songs.
Say my name and everything just stops
I don't want you like a best friend
Only bought this dress so you could take it off
Take it off, o-o-off
The chorus of "Dress" is the most explicit of the song. Taylor Swift is saying that she dresses nicely to meet her boyfriend but at the end of the night, she expects the dress to be taken off by him. This is not meant in any 'dirty' way, but a mere offering of her soul and body to her lover.
Carve your name into my bedpost
'Cause I don't want you like a best friend
Only bought this dress so you could take it off
Take it off, o-o-off
The metaphors are vaguely obvious in the chorus as she says she would be screaming his name so loud that it would get carved into the bedpost made of wood. Taylor is clearly not ready to become his best friend which would make this a friends-with-benefits kind of relationship.
I'm spilling wine in the bathtub
You kiss my face and we're both drunk
Again, Taylor Swift draws some sensual imagery of her soaked in a bathtub filled with wine and they are both drunk in love.
The bridge of "Dress" speaks about the first encounter of Taylor Swift and Joe Alwyn.
Flashback when you met me
Your buzzcut and my hair bleached
Even in my worst times, you could see the best of me
Taylor Swift and Joe Alwyn met at the latter part of 2016. Taylor Swift had her hair bleaches white and Joe Alwyn had an army buzzcut hair for his role as a solider in the movie 'Billy Lynn's Long Halftime Walk'.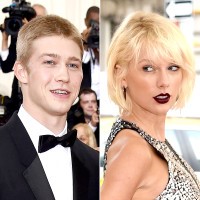 Taylor Swift admits that she has been on the rebound. Soon after breaking up with Calvin Harris, she started dating Tom Hiddleston which lasted for less than two months. She is admitting her mistakes and is blessing her timing that she met Joe Alwyn.
Joe Alwyn really had made a dent in her life like jigsaw puzzles fitting perfectly into each other.
More than a sexual intention, Taylor Swift might have wanted to say that she is not the narcissistic girlfriend.
What do you think about "Dress"? Too explicit or about time Taylor Swift actually expressed how she feels, without conforming to the iron bars of the society. Let us know in the comments below and share this article with other Swifties.
Check out more lyrics reviews of 'Reputation' album below
1. …Ready For It?
2. End Game (featuring Ed Sheeran and Future)
3. I Did Something Bad
4. Dont Blame Me
5. Delicate
6. Look What You Made Me Do
7. So It Goes…
8. Gorgeous
9. Getaway Car
10. King of My Heart
11. Dancing With Our Hands Tied
12. Dress
13. This Is Why We Can't Have Nice Things
14. Call It What You Want
15. New Year's Day