Fifth Harmony released their first ever studio album last month. The album is named "Reflection" and was quite the success. Following up with their debut studio album release, Fifth Harmony girls have decided to tour in USA and Canada. Yes, it is not a world tour. "The Reflection Tour" is scheduled to span from Feb 27 to March 27, 2015. It's only a month, but it has 23 performances in different locations. So it is a pretty hectic schedule for the girls.
Following are The Reflection Tour dates.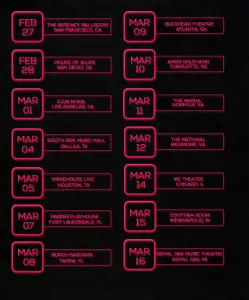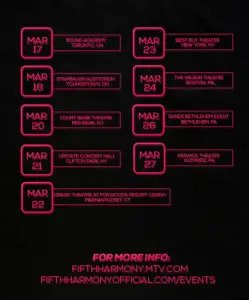 There are some interesting featuring acts on the Fifth Harmony tour as well. As per the official website, Jacob Whitesides, Jasmine V and Mahogany Lox are scheduled to perform with Fifth Harmony. For more information visit their official website. Some of the concerts are already sold out, so better hurry up if you want to catch these lovely vocalists live on stage.
They will be performing tracks off of their debut album and many more from their past as well. So if you are a fan, don't miss out on this.
Let us know if you are planning to visit The Reflection Tour and what performances are you most excited about?