Kid Ink is a California based Hip Hop/Rap artist who made a name for himself in the industry real fast courtesy of his upbeat Hip Hop style and freestyling capabilities. He has released two albums (Up & Away and My Own Lane) as of now along with one EP. His next studio album "Full Speed" was announced today by him on his official Facebook page.
As of now there are two tracks released from "Full Speed" which is due on February 03, 2015. "Body Language" was one of the singles released from this album and it gained popularity very fast, and climbed music charts.
Watch Official Music Video of Kid Ink's "Body Language"
The other track released is titled "Cool Back", which is the 6th track of the album. Kid Ink announced that pre-orders for the album will be released within the day.
Pre-Order Kid Ink's "Full Speed" Album on iTunes / Amazon
Buy Kid Ink's "Body Language" Single on iTunes / Amazon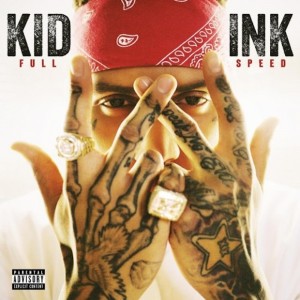 There are 15 tracks on the upcoming album and the featured artists of them are still to be revealed.
Track 12 of the album has been named "Blunted" according to iTunes, and possibly this will be released as the next promo-track of the album. Stay on the look out for that.
Check out Kid Ink's freestyle skills on the "Copy That" snippet