Miley Cyrus is undoubtedly one of the hottest young artists in the industry right now. Around last year Miley gave up on her shackled of Disney, specifically Hannah Montana persona, and developed her own style. She has been in the spotlight ever since, not for the most positive reviews though. Many claim that her music is not music at all. Her dress code on live stage in 'disgusting' and her behavior is utterly unacceptable. She was often blamed for her bad influence on the teens who adored her through her Hanna Montana times. Anyway she did not give up–she still is the crazy Miley that was unleashed a year ago–maybe even crazier.
Miley's talent for singing is not of doubt (for me). She has proven her singing skills time in and time out. Even her latest album "Bangerz" is of a good standing despite the heavy use of auto-tune throughout the album.
But if you still doubt Miley's singing abilities you should listen to her cover of "Jolene" and now "Look What They've Done To My Song Ma".
Listen to Miley Cyrus Sing "Look What They've Done To My Song Ma"
https://api.soundcloud.com/tracks/181403669
Beautiful, isn't it? Well, Melanie Safka did think so. She tweeted about the cover once it was out.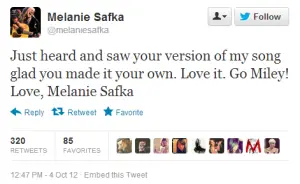 Buy Melanie Safka's "Look What They've Done To My Song, Ma" on iTunes / Amazon
So what do you think about the cover?
[polldaddy poll=8525872]