There seems to be no stopping of the album leaks. Chris Brown & Tyga's latest album effort 'Fan of a Fan: The Album' album has seen the world a little too early than it was scheduled to. This has been the trend for the past couple of years. 'Fan of a Fan: The Album' is a follow up of their prequel 'Fan of a Fan' album/mixtape back in 2010.
We highly encourage all of you fans not to download the leak and just be patient for a few more days until the official release date om February 24, 2015.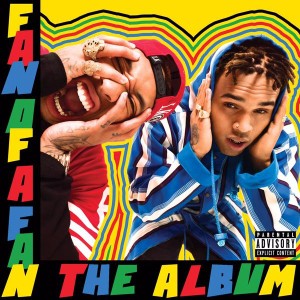 There are several kickass featuring voices on this album, which we got to know through the release of the official tracklist of the album.
Full tracklist of 'Fan of a Fan: The Album'
01. Westside
02. Nothin' Like Me (Feat. Ty Dolla $ign)
03. Ayo
04. Girl You Loud
05. Remember Me
06. I Bet (Feat. 50 Cent)
07. D.G.I.F.U. (Feat. Pusha T)
08. Better
09. Lights Out (Feat. Fat Trel)
10. Real One (Feat. Lil Boosie)
11. Bitches N Marijuana (Feat. Schoolboy Q)
12. She Goin' Up
13. Straight Up
14. Bunkin' (Feat. J305 & T.I.)
15. It's Yo S**t (Feat. Wale)
16. Banjo
The 16-track album has been fully leaked online as of today, which is the deluxe edition of the album.
---
Buy Chris Brown & Tyga's 'Fan of a Fan: The Album' on iTunes / Amazon
---
Two tracks "Ayo" and "Bitches N Marijuana" has already been officially released as promotional tracks from the upcoming album. You can receive these two tracks as soon as you pre-order the album. Or, just listen below.
Leave us with a comment if you are excited for the upcoming album and is unswayed by the album leak.