A legend turns 24 today. A legend in the making for some, but for us, he is already a legend. He is one of the most humble multi-millionaire celebrities we have ever seen. That alone is enough to take him to the hall of fame. Happy 24th Birthday, Ed Sheeran.
There aren't much words left to describe Edward Christopher Sheeran, except that we can genuinely use the world 'talented' to describe him and not regret it. He is an amazing singer, even better song-writer and even better soul. He has had a rough and tumbling career, but is now at the door steps of stardom, if he already isn't there. There's pretty much nothing stopping him from conquering the music world.
Before we forget, lets watch Ed Sheeran sing Happy Birthday song to some lucky fan.
Ed Sheeran, as we mentioned before, is a humble soul. He has actively spoken against high-pricing his concert tickets and engages in a lot of charity work as well. He is down-to-earth kinda guy and you shouldn't be surprised if you walk into Ed Sheeran sitting on the floor of an airport goofing with his mobile phone, because that actually happened.
On his birthday, this is what he had to say.
https://twitter.com/edsheeran/status/567443998659579905
Happy 24th Birthday, Ed Sheeran!!! Join the wishes!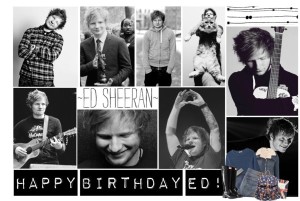 You too can wish this amazingly artist on his Twitter, and make his day extra special. #HappyBirthdayEdSheeran is trending worldwide right now. Make sure he knows that. Make a picture edit, sing Happy Birthday to him, write to him or draw to him. His kind of people need to be loved.
Wonder if he has a party planned or anything. I don't think so, unless others give him one. Anyway, I'm rambling. There's so much to say, but I don't feel 'qualified' enough to praise him. So I'm just gonna wish him a very happy birthday once more and leave it to you to express your wishes to Ed Sheeran.
Edward Sheeran, may you have the strength to produce more great music in the next 50 birthdays to come and may you stay young at heart forever. Stay humble!