Taylor Swift was the main attraction at the 58th Annual Grammy Awards 2016 held at Staples Center in LA, California. Often considered as the biggest and the most prestigious award ceremony in music, Grammy Awards 2016 was nothing short of glitz and glamour. Among the many stars who won and performed on the night, Taylor Swift outshone all other celebrities. Let me take you through the events that surrounded Taylor Swift on the Grammy 2016 night.
Taylor Swift Brings a Date to Grammy Awards 2016
Taylor has been quite successfully involved with Calvin Harris for quite a long time now. They are stronger than ever. However, the chart topping DJ had been busy with his career during the award show. So, Taylor turned her head towards her BFF Selena Gomez for company to the award show. The long time BFFs Taylor and Selena (Taylena) turned up real nice and glamorous for the Grammy night.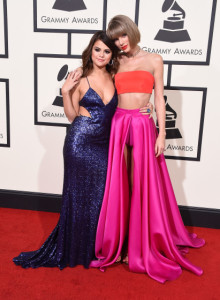 The duo sat together, danced together and cried and laughed together throughout the entire Grammy night. It was such a heart-warming scene.
Taylor Swift Grabs Three Grammys
'1989' album and 1989 era has been so successful for Taylor Swift. The change of genres has really worked out well for the Country singer. Taylor won the coveted 'Album of The Year' and 'Best Pop Vocal Album' for '1989', and won the 'Best Music Video' award for "Bad Blood" featuring Kendrick Lamar.
Taylor Swift made two new world records at this Grammy night.
Taylor Swift is now the only female musician to have won Album of The Year award twice.
Taylor Swift is the only artist in history of music to have won Album of The Year across two genres of music-Country and Pop.
#SLAY
Kanye West has had some run-in with Taylor Swift last week with the release of his new album 'The Life of Pablo', in which Kanye raps "I feel like me and Taylor might still have sex/ Why, I made that bitch famous." Kanye says he took prior approval from Taylor about this lyric on his track "Famous", but Taylor's sources say she was not aware of such a lyric. You can decide who's telling the truth.
Anyway, at the Grammy Awards 2016, accepting the Album of The Year Award, Taylor did throw some punches back at Kanye.
"I want to say to all the young women out there, there are going to be people along the way that will try to undercut your success or take credit for your accomplishments or your fame, but if you just focus on the work and you don't let those people sidetrack you, someday when you get where you're going, you'll look around and you'll know that it was you and the people who love you that put you there and that will be the greatest feeling in the world."
I don't know about you, but, go Taylor!!!
After all that fiasco, Taylor Swift also performed her hit single "Out Of The Woods" at the 58th Grammy stage. Sadly, I don't think a video of the full performance is available online yet. However her dress for the performance was so on point.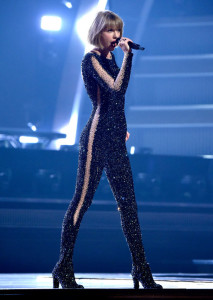 Calvin Harris Meets Up with Taylor Swift at Grammys Afterparty
Calvin Harris did not ditch Taylor Swift totally. He turned up to be with his "girlfriend" during the Grammy 2016 Afterparty.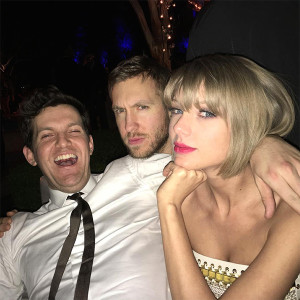 Don't they look just adorable?
It gets better. Later that night Calvin Harris tweeted this…
https://twitter.com/CalvinHarris/status/699714377176477697
Much feelings!
And so concluded a fairy tale of a night for the beautiful Taylor Swift. She not only won BIG at Grammy Awards 2016, but also made new world records and got to be with her prince charming at the end of the day.
Let us know how much you love Taylor Swift and Taylena and Talvin by commenting below. Don't forget to wish her on the major wins at the Grammy Awards 2016.