We have already seen two singles off of the Suicide Squad OST and they have blows us away. "Sucker for Pain" by Lil Wayne, Whiz Khalifa and Imagine Dragons was mind-blowing. "Heathens" by Twenty One Pilots had it's own dark and creepy aura. Now we have "Purple Lamborghini" as the third single off the soundtrack performed by Skrillex and Rick Ross. This one definitely blew our minds too.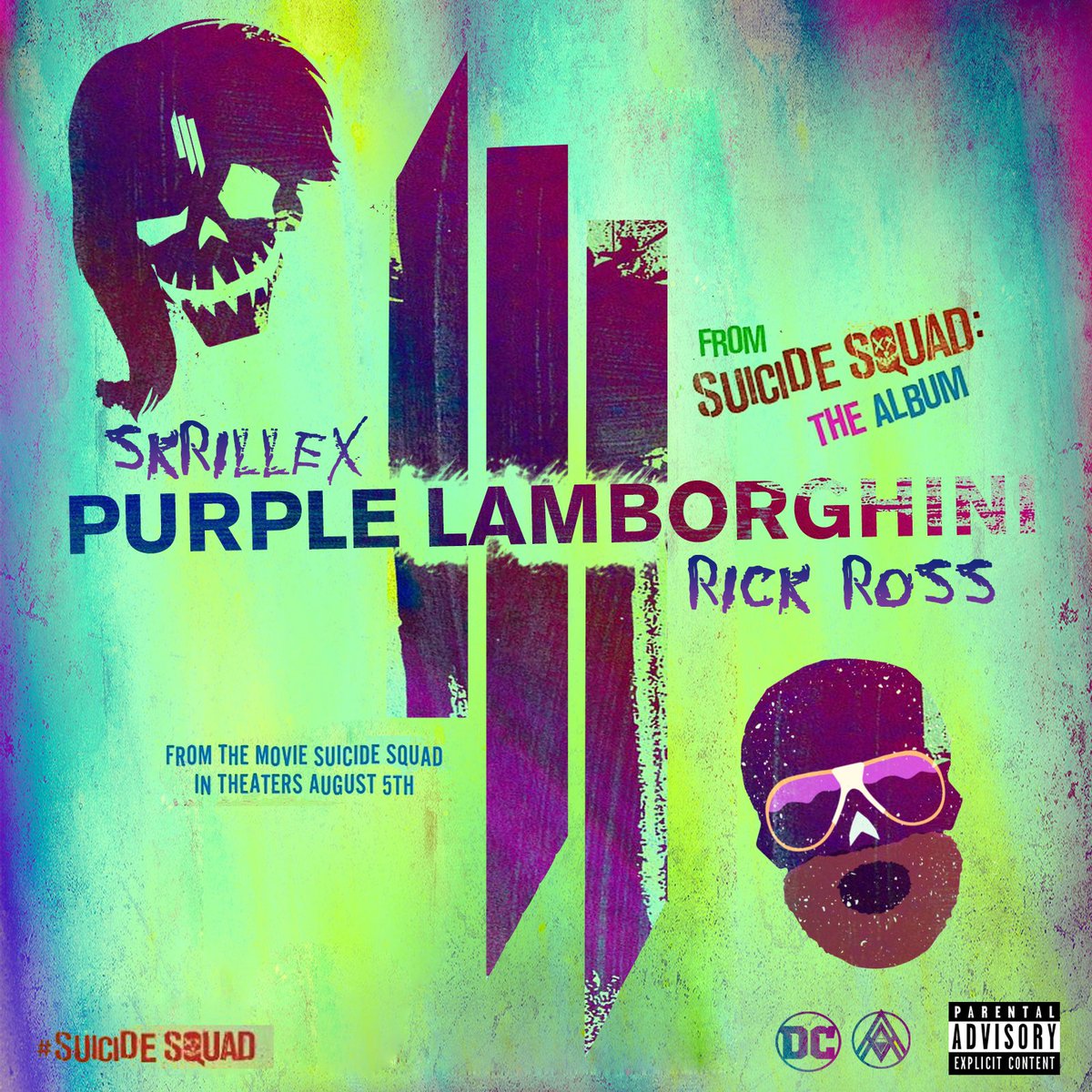 Download 'Suicide Squad: The Album' on iTunes or Amazon
Rick Ross, as usual, delivers some spitfire lyrics and Skrillex has used some mad producing skills to give about an unearthly feel to the track.
Lets get into some lyrics meanings of "Purple Lamborghini"
Biggest boss and I been the trillest
I'm a bigger problem when I click with Skrillex
Rick Ross sets the tune to the song by introducing Skrillex to the audience.
Murder on my mind, it's time to pray to God
My revolver is not religion's the revolution's bond
Rick Ross gets into the mindset of the villains of the movie. They are all crazy, murder-crazed bunch who are being used against their will. The singer addresses the crimes that have been committed in the name of religion-he says it's not his way. The revolutions make them stronger. Revolutions are what usually help the common masses.
They wanna know my name then go and tell 'em such
You wanna know my gang, Suicide squad
Pistol on my waist, I might make a mistake
Dead shot, head shot, put my gun in my case
The villains in Suicide Squad aren't hiding their identities. They have nothing to hide from, fighting the good fight. He then get gives up his team-Suicide Squad.
They are always armed. You intrigue them, they might make a 'mistake' with their weapons.
Also this line could very well refer to the police brutality that has been occurring across USA.
The Police has guns with them and all the innocent civilian shootings have been labeled as 'mistakes' and locked away from reality.
Dead Shot is a member of the Suicide Squad. He is usually known for making head shots-hence the reference in "Purple Lamborghini."
Drug every corner, this is Gotham City
Killer Croc came to kidnap you, to cut out your kidney
Ain't no mercy, got that purple Lamborghini lurkin'
Rozay, don't you know that pussy worth it
Gotham City and modern USA aren't far from similar. Drugs have become a retail commodity, much like in Gotham City. Rick Ross gives a shout out to another Suicide Squad character-Killer Croc.
Purple Lamborghini is the car that The Joker drives. The car's looks have been tuned to match the level of crazy of The Joker.
Rozay is well, another name for Rick Ross.
Killers everywhere, it ain't no place to run
Forgive me for my wrongs, I have just begun
The singer refers to the nature of Gotham City, as being full of criminal and there's no safety. And he has just begun his verses/killing career and he asks for forgiveness beforehand, because it's only going to get worse.
Inbetween verses Skrillex does some dope beats and music compositions that the recovery to the actual tune of the song is quite commendable.
Verse 2 of "Purple Lamborghini" is delivered by Rick Ross;
Don't be beggin' for your life cause that's a lost cause
High stakes, body armor, suicide boy
There's a time for games and there's a time to kill
Make up your mind baby, there's no time to chill
You will get no mercy from Rick Ross, so don't even bother begging for life. I'm assuming this applies to his rivals in the rap business as well as from the perspective of a Suicide Squad member.
When you are in Suicide Squad, you are in it for life. There's no going back and there's no time to rest.
Capital murder, capital lettuce
Yeah she catchin' my vibe but can't fathom my cheddar
'Capital murder' is any murder that makes the accused eligible for the death penalty, and in Suicide Squad that's just another day at work.
Rick Ross says the females are loving his vibe but can't even imagine his wealth.
Need a couple gang members for these new endeavors
From this point on whenever we do, we do together
Suicide Squad is about delivering the bad kind of justice, or doing the dirty work for the good people. Whatever goes down, the squad will stick together and face it.
Body on the corner, million in the trunk
Seven figures, I will spend that every other month
Suicide Squad's main line of work was explained in the lines before and in a summary they get paid in millions to drop 'unwanted' bodies. And they do spend those earnings lavishly too.
Say my name and I'm coming with the gun squad
Everybody runnin', homie there's only one God
Suicide Squad gets called to do the dirty work and they will gladly do it. Because they have no other way out of their lives. When they bring down hell upon their targets, there's only one God and he's called 'yourself'.
Cocaine, watches, robberies, I'm in the fast lane
Every day was life and death, that's when the cash came
"Purple Lamborghini" explains the life of Suicide Squad members and it goes something like drugs and crimes. Their everyday life was a game of life and death, and that's when they started earning hard cash.
Count money, drug residue even blood on 'em
He had a driver 'til I put my cuz on it
Kickin' in the dope boy, Suicide Squad
Needle in my arm so I'm do or die for it
Rick Ross paints an amazing picture of the life of Suicide Squad members, or even the commons of the Gotham City and it's not a fairy tale. They count money over the junkies and criminals whom they have killed for cash.
The lyrics to "Purple Lamborghini" has been written by Rick Ross himself and we have to applaud his lyricism and really getting into the mindset of the villains of Suicide Squad when writing the lyrics. The song really pictures a quite accurate image of the normal life in Gotham City and the life of the members o Suicide Squad.
Our hopes for Suicide Squad OST is higher than ever with the release of "Purple Lamborghini". The album will be out on August 5th along with the movie release, and we are keeping our fingers crossed for a music video for "Purple Lamborghini".
P.S. Some avid automobile enthusiasts insist that the car that The Joker drives (picture in the article) is not a Lamborghini, as assumed by the song. I don't know. If you have any comments regarding this or the song make sure to jot them below in the comments section.