"Buried In Detroit" was released back in 2015 in the 4-tracked "The Truth EP". However, after a year the same track gets a makeover with Mike Posner's dear friend Big Sean, in Mike's new upcoming album 'At Night, Alone' due out on May 06. Both are Detroit-based artists and "Buried In Detroit" is a nice thank-you to their hometown.
"Buried In Detroit" Lucas Lowe remix comes with a lyric video. Watch it below.
---
Download "Buried In Detroit" Ft. Big Sean on iTunes / Amazon
Pre-order 'At Night, Alone' album on iTunes / Amazon
---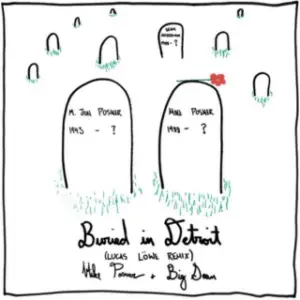 "Buried In Detroit" Lyrics Review
Verse 1 gives a little background information about Mike Posner.
I'm a writer and a lover
I'm a Midwest music man
And I've been to a lot of places
But I'm gon' end where I began
I took class in Carolina
Got high smoking joints
And now they know my name in Paris
Mike Posner is a song writer. He himself writes most of his songs-including this one. Detroit belongs to the Midwest region in USA. Mike Posner has been around the world-touring. From USA, UK to Asia, Mike Posner has made a name for himself. His last single release "I Took a Pill in Ibiza" is still hot on charts. He went to Duke University in North Carolina. He enjoyed life. All the glitz and glamour aside, he says he still will end up where he began-in Detroit-his hometown.
But I'll be buried in Detroit
Next to my father, and my father's father too
I used to live in New York City
But baby that ain't no substitute
Not for my hometown
That place people avoid
I've made love in every city
But I'll be buried in Detroit
Mike Posner says he will be buried in Detroit-or more like he wants to be buried in Detroit. That's out of love for his hometown. That's where his father will be buried, and his grandfather has been buried. Mike Posner now lives in LA, but he used to live in New York City. I'm guessing both cities are no substitutes for his hometown. Mike Posner says he has traveled to almost every city, and quite possibly made love in every city too. But still his heart beats for Detroit.
I don't claim to be a prophet, I just speak my mind
I try to tell it like it is and sometimes God makes it rhyme
I like my songs how I like my women
Honest and to the point
You see I got f**ked up in Stockholm
But I'll be buried in Detroit
Mike Posner tells what needs to be told with his lyrics. He doesn't have to be a prophet to get his messages right, because he tells the truth. Mike Posner's tracks have a varying rhythm to them-maybe because God makes them rhyme. He says he likes his songs and women honest and to the point. That's probably why he is not married yet. I'm not sure what specifically went down in Stockholm, but he toured there. But still he will be buried back in his hometown.
In the remix, Big Sean joins in on "Buried In Detroit" at this point.
Man, I always kept it righteous knowing it would come back to me
Even when my hunger was outweighing the strategy
And I'd pray to God like I hope you a map for me
Up at 5 am like nobody want it as bad as me
Big Sean is a self made artist. He speaks about karma here ("it would come back to me"). He kept his lifestyle good and righteous even when the huger was beating down on his plans and goals. He often prayed to God to show him a path, when he was awake at 5am working on his goals.
Big Sean continues…
I guess hunger either kill you or it energize you
Motor city, boy, I been a driver
The young Detroit legend, I swear I got the city inspired
And bought….just to solidify it
I love the motivational lyrical work of Big Sean. He showed it in "Blessings" featuring Drake and now he shows it in "Buried In Detroit" with Mike Posner. Big Sean says either hunger can make you weak and kill you or motivate you to work harder and not be hungry one day. Motor city is a name that was used for Detroit back when Detroit city was the biggest manufacturing city in USA.
D-boy, D-boy, that's how I was raised
Boss up and put the city on, forever my ways
Me and ma started charity to give the kids clarity
And take it further than the foundation we laid
Thanksgiving Day parade, I got carried through the city
And after that, I hope I get married in the city
And after that, I hope I get buried in the city
Even when I'm gone, you still gon hear me in the city
D-boy could refer to "dope boy" or a drug dealer, which is a common issue in Detroit and Big Sean says that's how they were raised. And together with other artists, Big Sean has shed some light into the dark alleys of Detroit city.
Both the artists want one thing-to rest in peace in their city.
"Buried In Detroit" comes to an end with another round of the chorus and we get one step closer to the heart of Mike Posner. I do believe, Mike Posner has been opening up about himself more and more with his latest tracks. Can't wait for 'At Night, Alone' album to see what more he has to offer.
Make sure to leave a comment if you enjoyed the new song and the review. If you have alternative meanings to the lyrics, please do comment below.