We know Taylor Swift to be one of the most passionate people about her music. She made it a habit to tease the 'crap out of' her new music. Last time, when 'Reputation' album released, Taylor Swift changed her entire persona and teased us with some 'snake-related' video clips.
Taylor Swift's upcoming album is massively anticipated. The last album 'Reputation' broke records after records and the superstat seems to be unstoppable. And it has been an appropriate years of a gap between her usual schedule for releasing new albums. The little (massive) differences we have noticed on Taylor's social media and public appearances have us wondering that something is cooking behind the curtains. Perhaps, TS7?
There has been a lot of hype circulating around the new theme of hints Taylor Swift has been dropping online and we composed an article to capture them all. This new hint dropped by Taylor Swift just might prove that there is in fact new music on the way, and we might also know an exact date and time of the release.
Today (April 13, 2019), Taylor Swift went on her social media to post a countdown. The simple post with the usualy glittery themed-background, shows a countdown of 12 days and 24 hours.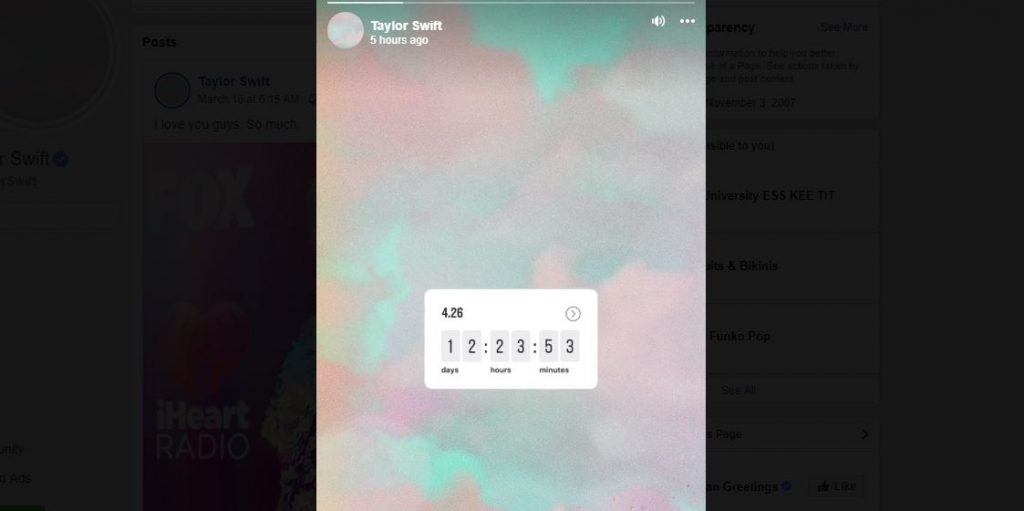 Let's count the days.
12 days and 23 hours from April 13th land us on 26th April 2019, a Friday, a perfect day to release a new song for the weekend radio.
Taylor Swift, for her obvious games, remain silent about this mysterious announcement, but the fandom is blowing up. By the understanding we currently have of her recent persona changes, we can safely assume that this teaser countdown is towards the upcoming album TS7.
The new 7th studio album by Taylor Swift is important for a few reasons. 1. Taylor Swift changed her record label to Republic Records after ending the 6-album contract with Big Machine Records. 2. Taylor Swift is and was in love for the entirety of the writing process of this new album, and hence it will have a very fresh and romantic outlook. 3. 'Reputation' album saw a very dark Taylor Swift due to the struggles she endured in her personal life. And this album will mark the comeback from that 'dark' place of her. 4. Even more so, we are just excited about new music from Taylor Swift!
Another thing we know for certain is that Swifties are going to get a lot more teased in the coming 12 days leading to this deadline!
What do you make of this countdown clock? What do you think it's about? Drop a comment below.
UPDATE:
Today (April 14th), Taylor Swift posted a picture on her Instagram profile confirming that something is being delievered on April 26th. This time the picture is of Taylor's hands in the backdrop of a yellow jacket. Her nails look glittery, and four fingers are donned in bling.