Taylor Swift's much anticipated first single of the 2017 album 'Reputation' has taken an unexpected turn, as the single was released at midnight on Thursday 25th. The unusually darker "Look What You Made Me Do" has Taylor Swift fighting back at her haters and our song analysis will give you more insight into the song and it's lyrics.
The Grunge style "Look What You Made Me Do" single has sparked both negative and positive comments among the fans and we don't believe that Taylor will be aiming at highest grossing singles with 'Reputation' album. It will be more or less of a personal retribution for all the times she held back when her haters gloated at her. Likewise, there was very little promotion or even build-up for the release of the single, but the single is here.
Almost all of Taylor Swift's singles have music videos and "Look What You Made Me Do" will have it's own as well. It will be interesting to see how this turns out, as the trailer for the video shows a lot of "boss" action from Taylor Swift. She is shown as a rogue character-donned in chains and bling, wearing sharp red and posing like a woman on a mission.
Watch Snippet of "Look What You Made Me Do" Official Music Video
Following are some of the snapshots from the trailer. Looking at how bad*ass they are, you can expect a full on venomous music video on Sunday.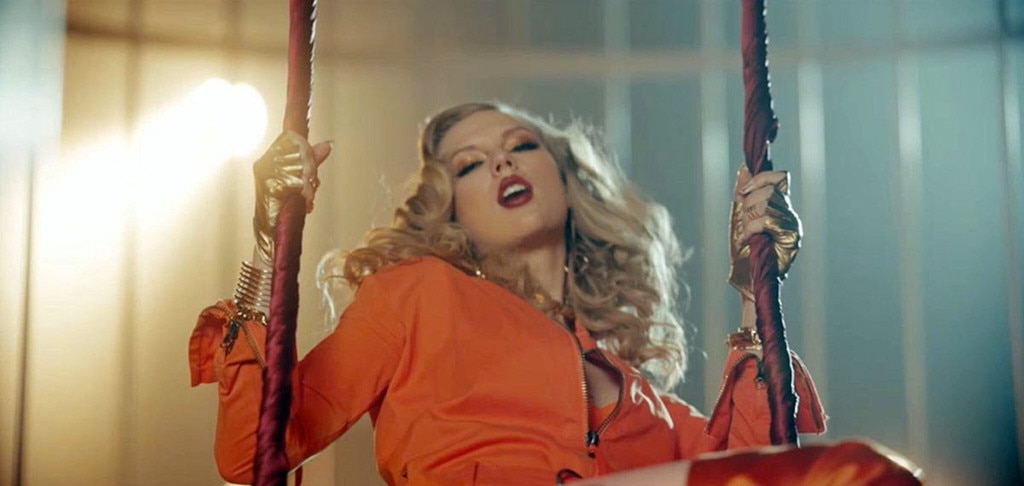 Taylor Swift announced that "Look What You Made Me Do" music video will be released at MTV Video Music Awards 2017 happening this Sunday, August 27, 2017 at 8/7c. If you are free on Sunday, VMAs is what you want to be looking at because Katy Perry is hosting the show.
We think we can expect a good #LWYMMD music video this Sunday, which will be boss level by Taylor Swift. What do you think this video will be like? Leave a comment below and share this article with fellow Swifties.