The release of Lil Wayne's 13th studio album 'Tha Carter V' is possibly the biggest album release in hip-hop this year. The 6-year wait has finally paid off as the album presents a massive 23-tracklist including some major collaborations such as Snoop Dogg, Kendrick Lamar, Nicki Minja, Travis Scott and XXXTentacion. So it comes as little surprise that Jimmy Fallon had a sit down with Lil Wayne to talk about his new album. After talking about his long absence from music, the new album drop and his future projects, Lil Wayne went on to perform a hit song "Dedicate" from the new album.
"Dedicate" samples 2Chainz's 2016 song "Dedication" which also shoutouts to Lil Wayne. The song also samples a speech given by ex-US President Barack Obama in 2009.
"They might think they've got a pretty jump shot or a pretty good flow. But our kids can't all aspire to be LeBron or Lil Wayne."
Lil Wayne stands in front of the audience, with a growing smile on his face, as this voice record plays in the background.
In this song, Lil Wayne acknowledges his impact on rap and hip-hop as one of the G.O.A.Ts of the game.
Watch Lil Wayne Perform "Dedicate" Live
Lil Wayne appeared on Jimmy Fallon with his usual t-shirt and jeans look alongside a fanny pack as well. He brought out his massive diamond jewellery for this live teleshow.
"Dedicate" talks abruptly about the 'billion-dollar smile.' In 2010, Lil Wayne got his teeth surgically implanted with diamonds. Lil Wayne claims the diamonds are worth over $150,000. When Wayne smiles, he literally gives a billion/million-dollar smile.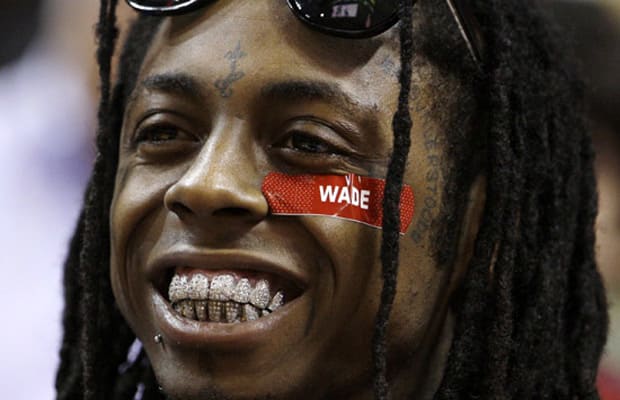 2Chainz's lyrics sampled on this track goes on to say how Lil Wayne created a whole culture within hip-hop, with face tattoos and his unique music style. This has influenced generations of rappers to come, even to-date.
Lil Wayne goes on to boast about the life his music has earned over the years. After the voice clip by Obama saying that all the kids cannot be Lil Wayne, he extends his piece of advice for the kids;
"So, therefore, with that said, kids, stay in school!"
Let us know what you think about Wayne's comeback album 'Tha Carter V' and the tracklist on it. Drop your thoughts on "Dedicate" song and this live performance in the comments below.
Full Lyrics to "Dedicate" by Lil Wayne