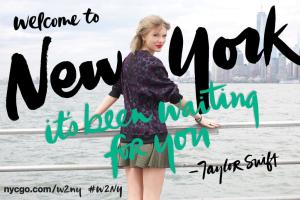 For the past few weeks Taylor Swift has been pretty much on everything. She was dancing off to her new album with her fans, she was on morning talk shows and late night talk shows, she was on commercials, numerous magazine covers and what not. The roles do not stop there. The latest honor is Taylor Swift being selected as the "Global Welcome Ambassador" for the New York City. This is not a title to be taken lightly. She is pretty much an official representative of the 'electric' New York City.
NYCGo (The Official Guide for the NYC) today announced that Taylor swift is the city's "Global Welcome Ambassador". I'm not really sure what this means for Taylor Swift or for the city of New York besides the goodwill and representation Taylor brings.
Taylor Swift released her hit single "Welcome To New York" about a week ago, which pretty much says how 'overwhelmed' she is of the big city. She had dreamed to move to New York City ever since she could remember. Now that she has achieved that dream, it has opened up many vibrant possibilities and opened new pathways for her music career. Taylor sees this city as a source of new and raw inspiration.
Along with this title Taylor released a video about this honor. In this video too she speaks about how New York City has been 'calling' for her all this time and now that she is here, it feels right.
Taylor Swift's new album '1989' hit the stores yesterday and comments and reviews have been pouring in ever since. I will keep on reviewing more tracks in the coming days.
In the meantime let us at JustRandomThings.com wish Taylor Swift on her new role as the "Global Welcome Ambassador" for the New York Cityyyy…
You can keep track of her title with the hashtag #w2ny on Twitter and Facebook.