Here is another little trick to get you addicted to the newly released '1989' album. In an earlier article we discussed how 'Polaroids' are the theme of this album. To stand by her choice, Taylor Swift has decided to issue a collection of Polaroids along with each copy of the new 1989 album.
It gets a little tricky now. There are 65 different Polaroids in total. But with each 1989 album copy you buy, you will receive 13 Polaroids. So essentially you will have to buy 5 copies of her album if you wish to collect all of the 65 Polaroids. If this is a little trickery or not is up to you. But I know most of you Swifites will jump right in.
I'm not sure if we can see the different sets we will be getting with each copy of the album. If that is the case we can collect all 65 Polaroids in 5 simple purchases. If what we get is random, Swifties may have to buy more than 5 album copies to collect the entire Polaroid collection.
What are these Polaroids? Well, essentially they are Polaroids of Taylor Swift. Each Polaroid picture has a handwritten lyric line from a specific song in the 1989 album. So that is quite valuable. Each picture is also related to the song it contains the lyric line from.
NOTE: As far as what Taylor said, these Polaroids will only be available when you buy the physical 1989 album CDs. They are not available for the digital downloads.
Here are All the 65 Polaroids you will be receiving.
(Click on an image in the reel below to start previewing. Use arrow keys to move to other pictures). Enjoy!

[polldaddy poll=8598096]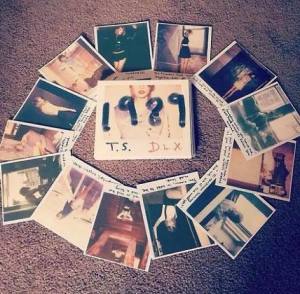 So if you wish to collect all of these pictures, hurry up and run to your closest music store and buy out 5 or more albums. If you have a Target store close-by I suggest you go there.
Do let us know if you were able to collect all the Polaroid pictures out of the '1989' albums. How many album did it take to collect all?