Complex got the artists, record producers and song writers to sit down in an interview and discuss the events leading to the creation of hit single "Patiently Waiting". It has been 11 years since the track has been recorded and the Hip Hop world has never been the same since.
50 Cent Meets Eminem and Dr. Dre
According to the interview 50 Cent wasn't with a record label when he released "Guess Who's Back" track and Eminem's manager Paul Rosenberg knew this was an artist with potential the minute he listened to the track. He then call up Em and 'forces' him to listen to the song. As expected Eminem is quite impressed with the track, and he immediately thinks about signing '50' with his then record label Aftermath Entertainment.
Buy 50 Cent's "Guess Who's Back" Single on iTunes / Amazon
This was a major breakthrough for 50 Cent, being noticed by the number one rapper in the world and through his connection, meeting up with the number one record producer in the world, Dr. Dre. And when that happened as Lloyd Banks says "it was an overnight thing".
However Dre was on the fence about signing 50 Cent with Aftermath Records says Paul Rosenberg. Dre wasn't against it, he was like 'are you sure about this?' But Eminem and Paul promised Dre to take 50 under their wings and any good or bad that comes with him. To this day 50 Cent and the G-Unit crew are in gratitude of that trust Em had in them, which can be clearly seen in the interview. So 50 Cent was signed up with a career changing record label deal with the best rapper and the music producer in the world! History was in the making.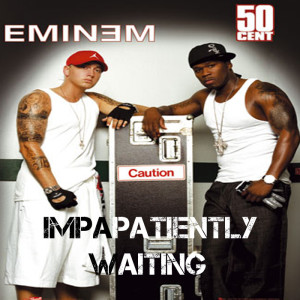 Eminem Features on "Patiently Waiting" by 50 Cent
"Patiently Waiting" was a track from 50 Cent's debut album "Get Rich or Die Tryin" which was a global hit that produced 50's hallmark songs such as "In da Club", "21 Questions" and "P.I.M.P".
Buy 50 Cent's "Get Rich or Die Tryin" Album on iTunes / Amazon
Eminem acted out the part of the producer for the track, until he heard what 50 Cent had done with the track. Then he wanted to feature in it himself. This was huge news for 50 Cent. Eminem spits out a rhyme about 50 Cent, who he is, where he has been, where he is now and how he is the next 'dude' in the game! Em says in the interview;
"But I was also trying to let anyone who didn't know the story of what had went on with 'Fif' and kind of explain a little bit of that. And look this is what he's been through, and this is where he is at now, you know what I'm saying? This is the next 'dude', this is the next guy".
Eminem was so confident about 50 at that time and it is clearly visible in Em's verses in the song. I believe Eminem did the right thing by taking 50 Cent under his wings.
Lyrics to "Patiently Waiting" by Lyrics Wikia
Watch Eminem and 50 Cent's Interview About "Patiently Waiting"
https://www.youtube.com/watch?v=prHRjHF1Qoc
What do you think about this classic hit?