Everything changes! Taylor Swift had a stellar year in 2014 releasing her new POP "1989" album, which produced so many (pretty much all of it) awesome new tracks. So as expected the album had her ruling the Billboard charts for 2-3 months. The new year has come and in the first week of it things have changed.
Taylor Swift's "Blank Space" managed to own the Billboard Hot 100 chart for 7 consecutive weeks–owning refers to being number one on the chart, just FYI. Hozier's "Take Me To Church" climbed up the chart so fast that it almost beat "Blank Space", but it never could rise above the number two spot. But we did notice "Uptown Funk" by Mark Ronson featuring Bruno Mars climb the chart like it was nothing. And as we feared/speculated in a previous article "Uptown Funk" did manage to dethrone "Blank Space".
Taylor Swift's "Blank Space" Is Dethroned by "Uptown Funk"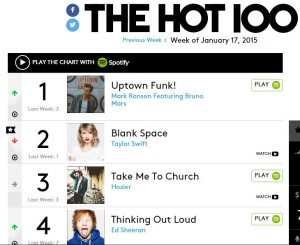 ---
 Buy "Uptonw Funk" by Mark Ronson Ft. Bruno Mars on iTunes / Amazon
---
The cause for this movement is the extreme popularity of "Uptown Funk", nothing less nothing more. "Blank Space" still has the 'biggest gains in streams', but lost on 'biggest gains in performance'.
"Thinking Out Loud" by Ed Sheeran has been climbing the charts at rapid pace too. Will it beat "Blank Space" too? Let us know what you think.
Taylor Swift's "1989" Album Holds Steady on Billboard 200 Chart
"1989" Album is the number one album on Billboard 200 (albums) chart for the eighth consecutive week.  The "Pinkprint" by Nicki Minaj is holding still at number two position. However "X" album by Ed Sheeran is climbing up. Most likely it will take over "The Pinkprint" by next week.
So there it is. A win and a drop for Taylor Swift at the beginning of the year. But more good things are about to follow in 2015. Taylor's "Shake It Off" is nominate for three Grammy awards, her "The 1989 World Tour" is about to begin and most recently she won three People's Choice Awards!!!
Keep slaying Taylor!