Rihanna released the first piece of visuals from her upcoming 'R8' (#R8) album and we are in love with it. "FourFiveSeconds" audio was released last week and we were enthralled that Rihanna is back in making music. Of course we predicted that R8 album will drop this year. So we were excited for "FourFiveSeconds" audio. And to top that Rihanna has released the music video for "FourFiveSeconds" and it's just as the teaser video predicted.
Watch "FourFiveSeconds" Music Video featuring Kanye West and Paul McCartney
How great is the music video? It's simple, captivating and sexy. Rihanna shows some serious 'cleavage' in the music video, clad in a lose denim-type top. Apparently, the wardrobe was Kanye Wests' idea. Kudos, Kanye!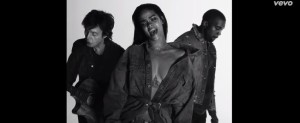 Who said The Beatles cannot perform? They are irrelevant? Look how good Sir Paul McCartney at the age of 72 is rocking along with two 'children' of music (compared to Paul McCartney). Massive respect to you Sir.
"FourFiveSeconds" music video is a little explicit. We see Rihanna almost flashing the viewers while making her moves in the video.
However, the song is quite emotional towards the end, to bring out the meaning behind the song. We see Rihanna wiping her tears off and we also see Kanye West with a tear below his eyes. Now that's something you don't see everyday.
Anyway, we love it. "FourFiveSeconds" is the first sound we got to hear from Rihanna's upcoming album 'R8' and things are looking very positive. We love the audio and love the music video.
Let us know what you think about the song and the visuals.