Just a few hours ago Paul Rosenberg, Eminem's manager, posted a picture on Instagram of the CD of Yelawolf's latest 'Trial by Fire' album. He was holding the CD in his hand in room in an apartment. In the background of his picture is another building with a poster for a drug advertisement. Seems pretty normal and innocent capture with a drug ad photobombing Paul's CD picture. But little did we guess that the drug ad could be the main reason for the picture.
Taking a closer look at the drug billboard, we can see the medicine is called 'Revival.' But do you also notice the E in 'Revival' is backwards. Reminds of any artist? Yes, it is a clear indication of some string towards Eminem.
The tagline of this new medicine is called 'Seize the moment with Revival.' Remember any artist who spoke about seizing the moment?
Anyway, since these are arbitrary judgments we decided to dig in a bit more to this new drug. Here is their website. This website has FAKE written all over it. I mean literally written on it.

Here is more Proof that 'Revival' is Eminem's Album
This is a screenshot from the website. What is Revival medicine for? Altrox Rithimus. There is no disease, sickness or condition called Altrox Rithimus. So it is a medicine for a fake disease.
And it literally says 'REVIVAL could be music to your ears.'
The video given in the website uses background music of the instrumental to "Lose Yourself" by Eminem.
And at the exact point of the screen capture in the video, the male hiker says "it's easy to lose yourself" when you have Altrox Rithimus.
And the male hiker also says with Revival he can "keep that sh*t" under control. Is this really the language for a medicine commercial that is under clinical testing? You tell me.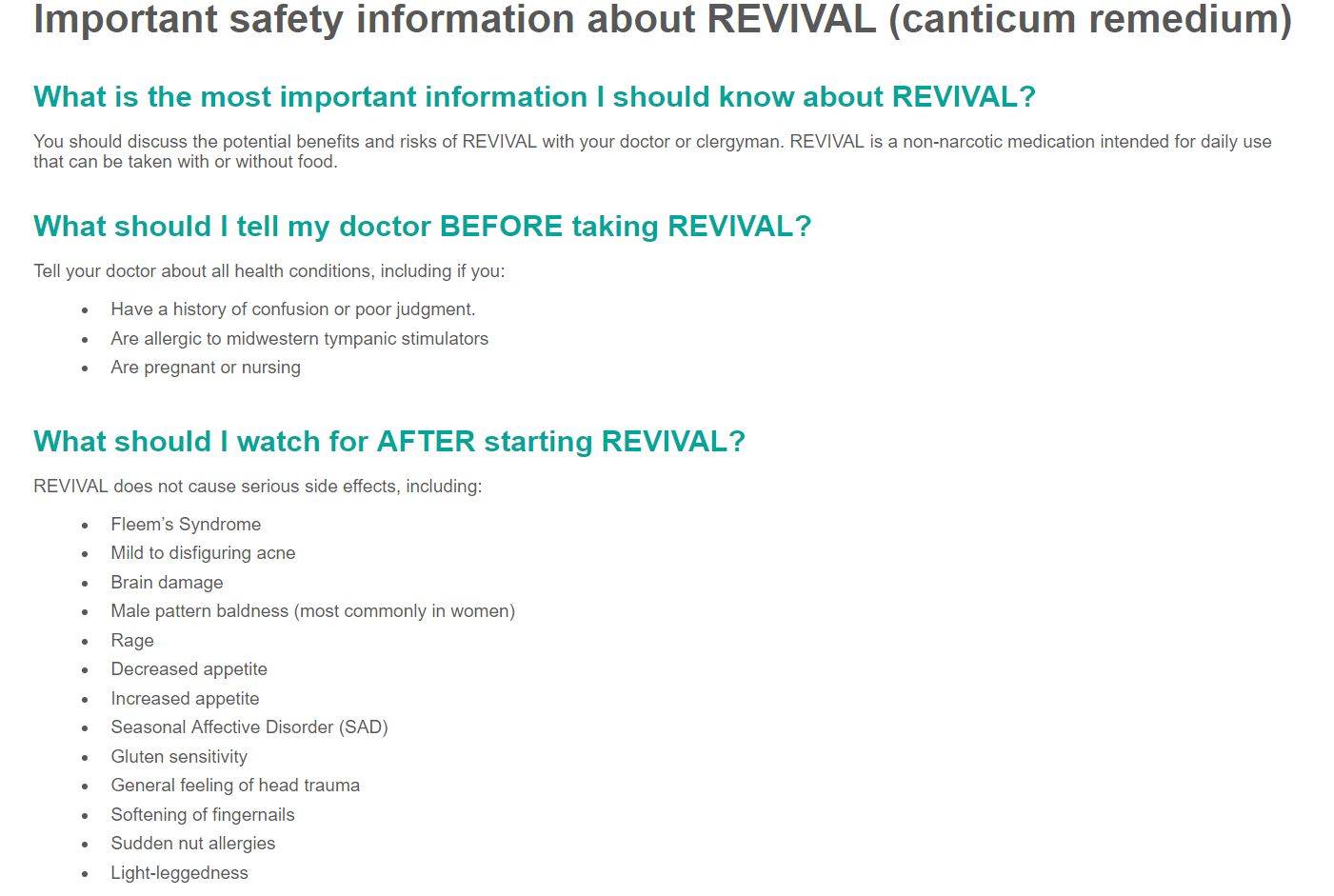 No medicine recommends that you discuss a medicine's risks and benefits with a clergyman. But of course if you are listening to Eminem you will need the help of a clergyman.
The website says 'Revival' side effects could cause brain damage. Eminem is an artist who could cause that. And male pattern baldness among women? It is pretty evident that this website is full of fake information about a medicine, but correct information about Eminem's upcoming album.
The website also says that the medicine is manufactured by Pompsomp Industries. Popsomp Hills was used for marketing relapse, a fictional rehab center.
It could be the next single or the album, but we would think they would go into a little less trouble to promote a single.
Whatever 'Revival' is, it has something to do with Eminem. So let us patiently wait and see what more information this website reveals in the future. Fingers crossed for the new Eminem album dropping soon.