Saturday Night Live is dedicated to comedy (and music) and what better way to produce a soap opera skit named 'The Californians', which includes people who talk super weird. Well, not super weird–but the Blonde-accent English of 2015!
The SNL 40th Anniversary Special featured 'The Californians' a drama about a Radford family reunion. The skit featured Taylor Swift ('Allison'), Bradley Cooper ('Craig' and sometimes 'Graig'), Kerry Washington ('Dr. Julianne Richards'), Betty White ('Lana' the Granny) and Kristen Wiig (Karina). The soap goes around the mysterious disappearance of granny Lana and her unexpected return. Someone had sabotaged her hot air balloon. And who sabotaged it? Taylor 'Allison' Swift.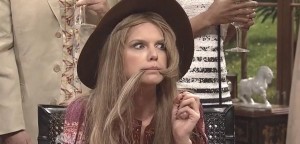 And then Allison goes on a rant to admit what she did. It's pretty hilarious.
Watch 'The Californians' Skit from Saturday Night Live 40th Anniversary Special
https://www.youtube.com/watch?v=bDCR4wrg0wo
Leave a comment if you found it hilarious. I wouldn't judge anyone's acting skills based on this skit, because they are scripted to act awkwardly and super irritatingly here. Yes, I'm talking about Taylor Swift's performance before any haters go on a rant about how she doesn't fit there. Bradley Cooper, Betty White and Kerry Washington are legendary actors-no doubt about that.
Taylor Swift got the opportunity to perform on stage with the great Sir Paul McCartney. Taylor Swift smashed "Shake It Off" while Paul McCartney supported her with a guitar. Kanye West performed "Wolves" and it was quite epic.
Leave a comment on what you think about 'The Californians' skit. Did you enjoy it? Or was it just too irritating to bear with?