Michael David Rosenberg AKA Passenger is one of the most talented artists in the industry right now. He just proved he has the biggest heart of them all too. After the very successful 'Whispers' album, Passenger is ready to release it's follow up album 'Whispers 2'. And this time it's all for a good cause.
Today Passenger took to Facebook and announced the new album, which is set to be released next month–on April 20 to be exact. He also gave insights into why this is 'Whispers 2' and not something totally different.
"truth is i've been sitting on this album for ages as all of the songs were written and recorded at the same time as whispers which is the reason why it feels right to make it a follow up rather than a separate entity all together."
Passenger also announced details about the tracklisting of the album. There are 10 tracks on the standard edition and 6 more on the deluxe edition.
Full Tracklist of 'Whispers 2' by Passenger
1. Fear of Fear
2. Catch in the Dark
3. A Thousand Matches
4. I'll Be Your Man
5. Travelling Alone
6. David
7. Words
8. The Way That I Need You
9. Strangers
10. Nothing's Changed
11. Two Hands (Acoustic)
12. Stolen Toys (Acoustic)
13. The Way It Goes (Acoustic)
14 .Settled (Acoustic)
15. Timber and Coal (Acoustic)
16. Darkest Days (Acoustic)
All Revenue from 'Whispers 2' Will Go to Charity
Passenger also announced that 'Whispers 2' will be released under his own record label, Black Crow records, so all money collected from sales of physical albums + digital downloads will go to charity–feeding the malnourished kids in Liberia. This is a project he has teamed with UNICEF UK to take part in.
So make sure you BUY a copy of the album or pre-order it now and you will be helping a great cause while listening to some of the best vocals in the industry.
---
Pre-order 'Whispers 2' Album by Passenger on iTunes / Amazon and Help a Cause
---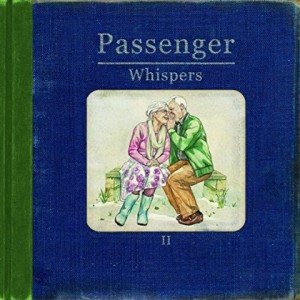 Beisdes all this, Passenger also premiered a new music video for "Travelling Alone" from the 'Whispers 2' album. Watch it below.
https://www.youtube.com/watch?v=mf0SxwkJOyc
Pure brilliance.
"there is no marketing team or big record label behind this project so please , if you like the video and want to spread the word about what we're doing , feel free to share this with as many people as possible !!"

 
This was Mike's final request on his lengthy message on Facebook. I ask you the same. Please spread awareness about this album and make sure you buy a copy of it–ask your friends and family to buy a copy of it too. It's all for a good cause in the end–and that's what music is all about!
Bless everybody who contributes towards this cause and special thanks to Passenger!