Taylor Swift was the biggest winner at last night's Billboard Music Awards, as she won 8 out of her 14 nominations. This is Taylor Swift attempting to keep her cool while holding 8 Billboard Music Awards.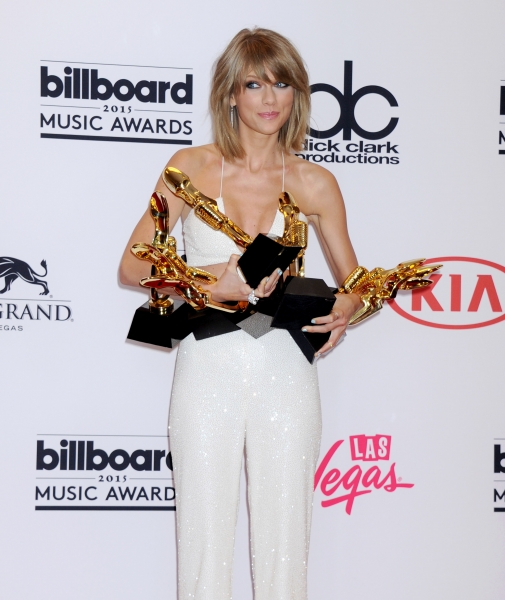 The categories she was nominated for this year are all listed here. The winning categories are;
Top Female Artist
Chart Achievement Award
Top Artist
Top Billboard 200 Album
Top Streaming Video
Top Billboard 200 Artist
Top Hot 100 Artist
Top Digital Artist
Top female artist award was an obvious win for Taylor Swift, as no other female artist matched her commercial and social success in the last year. Chart Achievement Award should have been awarded for the massive non-continuous streak singles from '1989' album achieved on Billboard Hot 100 and 200 Albums chart.
'1989' was the obvious winner for Top Billboard 200 Album, as it set records for the longest reigning number one album on the chart. "Blank Space" should have won the award for Top Streaming Video as it has gained closer to 900 million views on YouTube. All the singles released off of the '1989' album were ranked number one on Billboard Hot 100 chart, except for "Style". So this justifies the Top Hot 100 Artist award. Top Digital Artist is awarded for the best music performance of an artist on digital media.
The shocker is Taylor Swift losing Top Social Artist award at Billboard Music Awards 2015. She is so active on social media, especially on Tumblr, where she even interacts with her fans. Who won it? Justin Bieber! How? Nobody knows.
Anyway, those were the award victories of Taylor Swift on the award ceremony. But there were more… Taylor Swift and Calvin Harris stepped out as an official couple and they looked adorable. And also Taylor's new music video for "Bad Blood" was released. Another night won by Taylor Swift.
Any thoughts? Leave a comment.