Ahh, The Black Friday is upon us. The greatest shopping craze in the world has some sort of prickly effect on the African American community and if not anyone else, we were sure that Kendrick Lamar would speak up. The Compton rapper has been speaking his mind out in almost all of his songs and using his songs to surface the issues that are usually stomped down. "King Kunta" was a great track that spoke about Black-injustice in some great lyrical expertise. Now, we have this-"Black Friday (A Tale of 2 Citiez Remix)."
Kendrick Lamar's remix is an addon to J-Cole's " A Tale of 2 Citiez" from his album '2014 Forest Hills Drive." You can see Kendrick Lamar got creative with the artwork forn"Black Friday."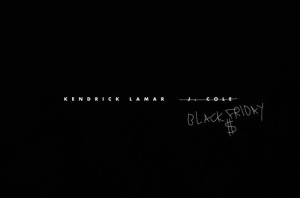 Listen to "Black Friday" by Kendrick Lamar
Song Meaning and Lyrics Review of "Black Friday" by Kendrick Lamar
So let's jump right into breaking down the lyrics of this amazing gift to us by Kendrick Lamar.
The whole industry been in shambles
Everybody fugazi, I'm just changing the channel
Right at the start, Kendrick Lamar fires shots at the so called music industry. True, there is an industry and there are songs, but there's less of music than there was before. He says the whole industry is a fake ("fugazi") or a myth. There's nothing real going on, except maybe for Kendrick Lamar and a few others.
Kendrick Lamar, the people's champion, I'm animal for analysts
Career damaging verses, meditating with candles lit
I like my raps extra prolific
So freestyling on lunch tables and park benches
And I won't mention my ten thousand hours in training
K-Dot AKA Kendrick Lamar is a people's champion. He is praised and loved by many. Not only because he raps, but because he spits out what others don't care to and he does it with a passion. And for people like myself (music "analysts") he is pure gold. He truly does have some serious lyrical skills going on and that is a rarity in this fugzai music industry.
Kendrick likes his verses to be remembered because of their richness. He can spit out a freestyle, but that doesn't come out of nowhere. It comes out of hard work.
While juggling gang-banging, my balancing was tremendous
And now we look at the competition as quick submission
They tappin' out before we even get a chance to miss 'em
Kendrick Lamar lives in a community of oppression. "Gang banging" doesn't refer to pornography here. It means gang wars that is a usual sight in Compton. He says he was able to balance out his act through all of that quite amazingly-he didn't succumb to that life. He sees the competition dull now. People give up even they begin to give a real fight.
What this about, is it money or skill?
Maybe it's both and I got large amounts of it, it's real
You see my oath is very unbreakable, my style is never mistakable
I can see y'all incapable
What has music becomes? Is it a game of money or skill? Because Kendrick has both a plenty. And his skill is real. He speaks out his mind and stays true to his word-something very lacking in the world today. He sees other 'artists' as incapable of doing something real and positive to the world.
To be the God MCs, you know me well
Ridiculous, venomous, hate in my heart, the sinister

Run for cover, my lineage prove itself
Kendrick is a real MC and everybody knows him now. And for some he may be sinister with hate in his heart. But that's not the hate-that's the truth that all others hate!
He says other MCs should be scared of him, for his talent, not because his grandfather was a notorious character in a gang ("lineage").
I'm rollin' deep in that paper like two Adeles
Before scholars, I flowed tighter than virgin lips
Kendrick says he has double the 'paper' that Adele has. Mind that paper means money. Even before he got on the spotlight ("before scholars" started interpreting his lyrics), he had tight verses.
We had to shake the game up and you're flying through turbulence
Everything is high stakes nowadays, that's how it played nowadays
It's like an 8-ball to the face nowadays
I'm laced nowadays, my gun is off the waist nowadays
The music game has been changed-the Black culture has been changed. Everything's on edge now, on the verge of breakthroughs and Kendrick Lamar did have a part to play in it with his killer verses. Everything is in turbulence now. But something has to be given up to gain another-high stakes. He has his gun out-it's in his hands-shots being fired all around.
It's seven figures and retainer for the case nowadays, I'm talking
Higher power, every other hour since Eddie Bauer
Since stash boxes and lead showers, breaking the padlock
"Black Friday" by Kendrick Lamar may not attract any legal cases, but Kendrick is saving up seven figures to fight cases when they do pop up. He has been talking about God since his childhood.
And the dead coward dying a thousand deaths, entire lion
Surround itself with bears, watch it nigga, you share a profit
Kendrick Lamar gets some Shakespear in "Black Friday" too. "A coward dies a thousand times before his death, but the valiant taste of death but once." – William Shakespeare, Julius Caesar.
Lion is the king of the jungle and it surrounds itself with 'bears'-these bears exist in the share market. It's called a 'bear market' when the markets are looking down.
This is what they want, I'm the one
This is vintage from 1980 – somethin'
I'm the son of the pioneer that got you niggas on
Lamar says people want old school rap from the 80s. He says his rap is old school. He is the son of the pioneer-who is this pioneer that got most good rappers into the game? Dr. Dre of course.
Play with him, bitch you better off voting for Donald Trump
I'm yelling Mr Kanye West for president
He probably let me get some head inside the residence
I'm in the White House goin' all out
Bumping College Dropout, God-bless Americans
Donald Trump is a controversial political figure. But Kendrick finds his policies amusing (we all do!). He says Trump's presidency is no better than a play toy. He'd much rather have Kanye West in the White House. No matter who's in the White House, college dropouts are increasing and God-bless Americans, indeed.
Nothing more influential than rap music
I merge jazz fusion with the trap music
I mix black soul with some rock and roll
Kendrick believes that rap music can be the most influential form of music. It has firepower and lyrical flexibility. But it takes talent to rhyme it to make it appealing. Kendrick Lamar produces some sick beats. He fuses Jazz with Trap music and Rock n Roll and Rap. It's a treat, trust me. Listen to his album 'To Pimp A Butterfly.'
They never box me in, I'm David Blaine-ing all you hoes
Oh yea, let's go there, my DNA is DMT, I'm so rare
My jewelry now is wilder than the new year
A locomotive couldn't track me down in my cobra
Kendrick Lamar doesn't get trapped-he is fleeing from it all like David Blaine the magician. He says his DNA is made out of DMT drug and he is quite unique for that because he doesn't have other common drugs done by the mass. The industry ("locomotive") is so behind his music game ("Cobra" car).
Runnin' this shit with four pair, son of my bitch, I might demolish
A bitch right in front ya, chico, what have you done here?
D-Bo, all of it one year, Mississippi to California
Kendrick Lamar hold a four pair (referring to Poker-a very strong hand) and he runs the game with it. He took the crown and beat all the rappers from Mississippi to California in just one year-2015.
It get annoying, niggas wanna deploy him
And bitches wanna adore him, but industry shitting for him
Probably thinking it's for him, only one me
"Black Friday" speaks about a 'him' that everyone is concerned about. But that 'him' is not Kendrick Lamar. He is unique.
Swallowed the key and kicking the door in, never leasing my foreign
Mr. Valedictorian studied the game before them
Kendrick Lamar took the hard way in. He swallowed the key and bust the door open. He was aggressive in his music and that made him the Valedictorian of the rap game. He said he studied the rap game before other so called 'rappers'.
Listen to you with boredom, baby rappers, support them
To the grave I deport them, corporations extort them
Kendrick lashes at some rappers who are just corporate puppets-who just want to make a quick buck by promoting some brand in a trashy music video. Kendrick Lamar wants to send their music to the grave.
I'm snapping off my endorphins, I alien mighty morphin'
My radius rather gorgeous, hundred bill to the doorman
Hundred mil in my fortune, they call me back in the morning
You're racing against the tortoise, pace myself it's important
Endorphins are the cells responsible for our feelings as per RapGenius. And Kendrick Lamar is cutting them out, morphing into an alien. Kendrick Lamar is rich-no doubt about that. He is being called back to the stage every morning and he has no need for money anymore. Kendrick's music career is like the hare-tortoise race, Kendrick being the tortoise of course.
Lace myself with the wisdom my playerism enormous
So pay the man for performance, saucy all of my garments
Kendrick Lamar's verses have wisdom and he wants more of it. He asks for artists to be paid for their talent. He dresses up in fancy clothes.
I tell a bitch don't sweat me
I kill this whole fuckin' beat if Cole let me
Ib should've never sent the instrumental
Ib refers to Ibrahim Hamad-J-Cole's right hand man who seems like the person to have sent the "A Tale of 2 Citiez" instrumental to Kendrick Lamar, over which he has done this "Black Friday (A Tale of 2 Citiez Remix)." There is no beef going on here. J-Cole himself tweeted about this track by Kendrick Lamar.
Black Friday. gift from @kendricklamar https://t.co/fE5wgBosWO

— J. Cole (@JColeNC) November 27, 2015
Every time I start writing I get sentimental
This shit is just not fair
But why the fuck should I care?
The story of your life here
Two young stars was born and y'all gon' die here
Oh Lord, gotta be the yams
For this lyric breakdown I'm gonna give you the Genuis.com annotation, because they hit it on the head.
Kendrick lived a rough life in Compton and raps about his following depression in "u." Coincidentally, he emulates his drunken sobbing voice from "u" when he raps "This shit is just not fair, but why the fuck should I care?" J. Cole, who also had a rough upbringing, elaborates in songs like "03′ Adolescence."
In Kendrick's "King Kunta," the yams represent authenticity regarding personal experience, whatever that may be.
While traumatic experiences plague both artists, these experiences give them authenticity in their lyrics, as they've been through what they rap about. Both Cole and Kendrick are young stars, slowly rising among the most acclaimed rap artists of the 00's, with Kendrick's To Pimp A Butterfly even surpassing Kanye West's My Beautiful Dark Twisted Fantasy for highest rated rap album of the decade. – Genius.com
Billboard list need 2Pac damn
But number 9 makes sure he lives on, yeah
Billboard recently released their list of 'Greatest Rapper of All Time' and 2Pac wasn't included in the list.
Kendrick secured the 9th spot and he wants 2Pac's legacy to live through him.
Hoochie, coochie, pussies in a trance
Every day a celebration, but even the valley peaking me
Is not validation, nigga this TDE
And my doggies be salivating, salaries, better ratings
Everyday is a celebration in the Vally-Hollywood. And at times they peak over Kendrick Lamar, but he doesn't need validation from them. He has his TDE family behind him. And his crew is suckers for better salaries and better ratings for his music to fatten their purses.
And casualties all around me, don't make me do demonstrations
Whoa
Murder my allegations and burning my finger traces
He removes traces of his murders when he burns allegations against him.
Adjourning my power patience and earning royalty payments
I'm sorry y'all not relating, this party is reservated
Kendrick Lamar is happy with adjourning his claims to power. He waits patiently-earning royalty for his music. He says this party is not for everyone. Not all can relate with him. Not all will agree and not all will join him.
I kill this whole muthafucking beat if J. Cole say it
My nigga Ib chopped the instrumental, I gotta slay it
"Black Friday" by Kendrick Lamar is closing in on the end and Kendrick says if J-Cole allowed him, he would remix the whole instrumental track of "A Tale of 2 Citiez" by J-Cole. Luckily for J-Cole, Ibrahim Hamad only sent Kendrick a part of the instrumental. LOL.
I gotta lay it, gotta show you fuckers I'm not to play with
The ruckus had been my favorite, King Kunta the fuckin' greatest
Whoa
Kendrick Lamar confesses that he is not in the game to play around. He likes to create a ruckus in the game, just to get the harsh realities out there. It's his favorite. "King Kunta" was a great track-we all know it.
Burnin' my leather-
(Nah I'm just fuckin' wit cha)
Kendrick starts off another verse and cuts short… referring to what he said above on he is not murdering the whole track.
[polldaddy poll=9202701]
Hence concludes yet another masterpiece of a lyrical work by Kendrick Lamar.
We love it and hope you do too. If so leave a comment on your opinion or annotations of lyrics to "Black Friday" in the comments below. If we have made errors, please feel free to correct us. After-all, I'm just a boy trying to interpret one of the greatest rappers of all time.