After a quite lengthy hiatus with albums, Zayn has finally released his second solo studio album 'Icarus Falls.' The 25-year-old Brit made up for the long hiatus with a 27-track album running up to 88 minutes in playtime. 
A few months back Zayn announced on Twitter that the new album was getting delayed due to uncontrollable reasons. However, he did not leave his fans without new material. He premiered six singles prior to the release of the album. 
"Let Me," "Entertainer," "Sour Diesel," "Too Much," "Fingers" and "No Candle No Light" are the singles that were released within a span of 11 months. The Japanese release of the album is said to contain two extra tracks: "Dusk Till Dawn" featuring Sia and "Still Got Time" with PARTYNEXTDOOR.
Zayn's 'Icarus Falls' follows his debut solo album 'Mind of Mine' from March 2016. The solo album charted #1 in the UK, Australia, Canada, New Zealand and the USA. The Popstar split from One Direction boy band in end-2015.
Album Artwork for 'Icarus Falls' Album by Zayn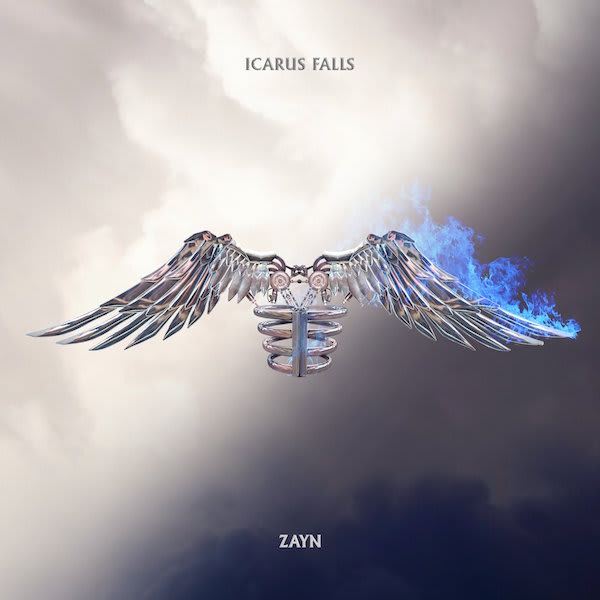 What is the Story Behind 'Icarus' and His Falling?
In Greek mythology, Icarus is the son of the master craftsman Daedalus, the creator of the Labyrinth. Icarus and his father attempt to escape from Crete by means of wings that his father constructed from feathers and wax. Icarus' father warns him first of complacency and then of hubris, asking that he fly neither too low nor too high, so the sea's dampness would not clog his wings nor the sun's heat melt them. Icarus ignored his father's instructions not to fly too close to the sun; when the wax in his wings melted he tumbled out of the sky and fell into the sea where he drowned, sparking the idiom "don't fly too close to the sun".

Wikipedia
Full Tracklist of 'Icarus Falls' by Zayn
"Let Me"
"Natural"
"Back to Life"
"Common"
"Imprint"
"Tonight"
"Flight of the Stars"
"If I Got You"
"Talk to Me"
"I Don't Mind"
"Icarus Interlude" 
 "Good Guy" 
"You Wish You Knew" 
"Sour Diesel" 
"Satisfaction" 
"Scripted" 
"All That" 
"Fresh Air"
"Rainberry" 
"Insomnia" 
"No Candle No Light" (featuring Nicki Minaj) 
"Fingers" 
"Too Much" (featuring Timbaland) 
As evident from the above tracklist, the only two features on the album are Nicki Minaj and Timbaland. 
Stream 'Icarus Falls' Full Album
The album can streamed on Spotify and Apple Music.
---
Buy 'Icarus Falls' Album on iTunes and Amazon
---
The extensive tracklist contains a vivid array of topics. We hear Zayn singing about love, hearbreak, Gigi Hadid, partying, loss, friends, prostitutes and much more.
For an example; "Entertainer" talks about almost falling in love with a stripper girl in a club. But Zayn is within his wits to keep her at a distance, without making her wifey-material. In "Insomnia," Zayn speaks about being up all night wondering if she is coming back. He is pretty much zombie-fied in this song. On the other hand, songs like "Back to Life" talks about how his partner helps him through the toughest times of his life. She breathes life into Zayn.
Another tragic heartbreak anthem on 'Icarus Falls' album is "Rainberry," where a sullen Zayn weeps about his doubts of his girlfrend's loyaly. In this song, 'rainberry' is a metaphor for tears, and Zayn seems to be done crying over her betrayal.
In "Icarus Interlude," Zayn gets close to the album title. In this track, he reflects on hmself wondering if he flies too close to the Sun. Zayn is undoubtedly one of the biggest superstars in the world, even bigger after the split from One Direction. In this song, he believes he is right where he wants to be in life.
Zayn's new album 'Icarus Falls' is a creative collection of music. There is something different in every song and there isn't anybody who cannot relate to neither of these songs.
Let us know in the comments below which is your favorite track from this album and why? Also, make sure to share this article with your friends.