The stories surrounding Fyre Festival today would have been a whole lot different had Billy McFarland been able to pull off the original concert scheduled in April and May 2017. However, the way things unfolded it seems as if the brand name 'Fyre' would no longer be valid or able to breathe in the entertainment industry. But Ja Rule might have other plans.
Ja Rule collaborated on this 'brilliant' concept by entrepreneur Billy McFarland in an attempt to create an 'experience' much more than a music festival. But it was not meant to be, as the concert failed to meet deadline quite horribly. However, Ja Rule spoke to TMZ about his plans in reviving Fyre Fest.
"But you know, in the missed chaos is an oppurtunity… It is the most iconic music festival that never was. So, I have plans to create (an) iconic music festival. But you ain't hearing it from me."
Well, you have to admire the guts of Ja Rule in attempting to revive the most iconic music fest that never was.
But he and his business partner-Billy McFarland may have to sort out many loose ends from Fyre Fest that went downhill. For one thing, Billy McFarland has to get out of jail for the fraud he committed and him and Ja Rule collaboratively have to pay off $2.8 million in settlements.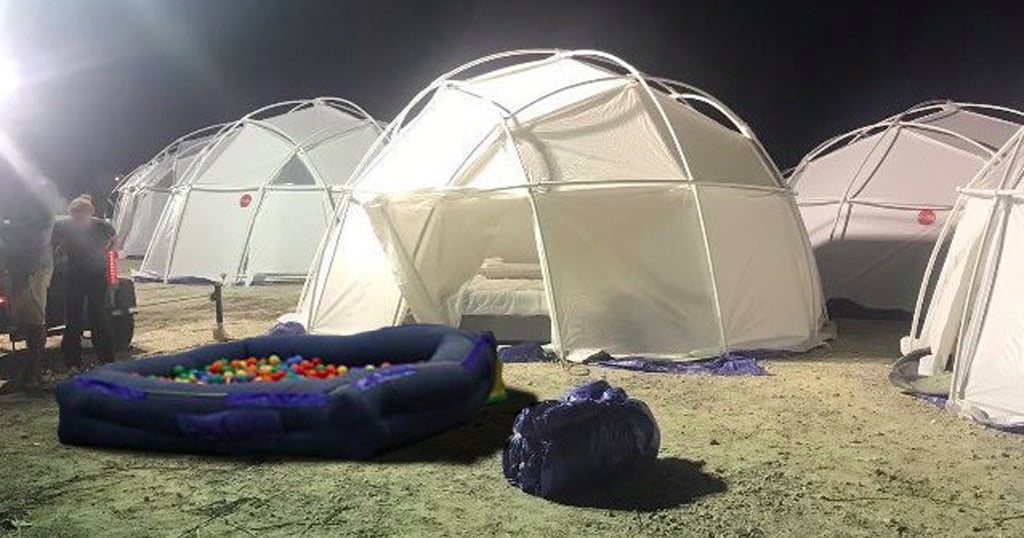 Ja Rule also says he is not happy about how it all unfolded in the first time around;
"It's not funny to me, man. It's heartbreaking to me. It was something I really really wanted to be special, amazing. It just didn't turn out that way."
What is Fyre Festival?
The Fyre Festival was poised to be one of the most 'iconic' events to be ever created. Ja Rule, Billy McFarland, and event planner Andy King had a creative vision to create one of the most luxurious, entertaining, relaxing and iconic musical experiences ever.
What Happened to Fyre Fest 2017?
The Fyre team picked an island in Bahamas as the location and logistics were difficult as it is. It was the island of the late drug kingpin Pablo Escobar. The event team were vowed not to use the Pablo Escobar factor as a promotional item, and they did. This resulted in the team being kicked out of the island.
Logistics had to be re-arranged. They moved the event to the Great Exumas in the Bahamas. Within that move, most of their visition for the Fyre Festival was lost. The Great Exumas was not an isolated island. It was populated and a popular tourist destination.
In the meantime, the Fyre team were heavy on the promotion of the event. They hired supemodels such as Kendall Jenner, Hailey Baldwin, Emily Ratajkowski, Bella Hadid, Alessandra Ambrosio, and Elsa Hosk. They did extensive photoshoots and videos on uploaded on their social media accounts as social media influencers.
The Fyre team partied extensively with the models in promotion for the event and the event planners were facing severe issues with meeting deadlines. Billy McFarland had been selling condos, houses, food packages and experiences which were not even thought of by the event management. To cover increasing costs, Billy was selling more and more luxurious packages.
Just days before the event, Fyre team withdrew the food contract and assigned the event management to find another. This was a huge blowback to the entire event's success.
The team's move to the Great Exumas made it almost impossible to find suitable lodging as promised in the website and already sold. The team failed to pay construction worker's wages on time and this slowed down event progress even further. Their last resort was to put up FEMA tents just a couple of days before the event date.
Billy McFarland was not willing to cancel or postpone the event. People started coming in on the event date and the entire place was in chaos. Last night's rain had destroyed the camping grounds and mattresses were soaking wet. Inside of the tents were flooded with muddy water and thousands of people had nowhere to go or spend the night.
There was no proper food arrangement. No sanitation. No lodgings and many of the main artists cancelled their shows due to poor concert conditions.
Only after things were absolutely wrecked and Billy saw no way of salvaging, he took the call to cancel the event.
Billy had to face several counts for fraud due to misleading of people and conning their money-selling things that weren't actually there. He is due to pay a sum of $2,891,600 plus 30% interest on frauds dating back to August 2017. He is currently serving a 6-year prison sentence.
This is how the 'greatest music festival that never was' came to be. This disaster spawned two documentaries: 'FYRE: The Greatest Party That Never Happened' and 'Fyre Fraud.'
Amidst all this, it takes some severe guts to hint at a second Fyre Fest. Should Ja Rule go ahead with this reboot, he should have a clean slate from the previous experience. We hear that the restaurant that temporarily provided food and lodging at the Great Exumas is still unpaid. We also hear that the construction workers are due thousands of dollars. #cleanslate
Watch the below Fyre Fest trailer on Netflix of what is was supposed to be:
Watch below the trailer of Netflix documentary on the disaster: