It's been a busy day for the british boy-band One Direction. Just earlier today they revealed a special offer for those who pre-order their album.  Now the hashtag #PreOrder1DFOURDeluxe is trending on Twitter because of this special offer.
Just minutes ago One Direction facebook page released the full 'Four' track listing of the album. All the fandoms are going crazy. I'm sorry, the Directioners are going crazy. So here is One Direction Four track listing.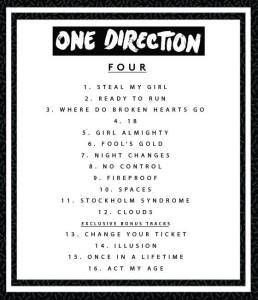 Steal My Girl (already released as a single)
Ready to Run
Where Do Broken Hearts Go
18
Girl Almighty
Fool's Gold
Night Chances
No Control
Fireproof
Spaces
Stockholm Syndrome
Clouds
Change Your Ticket (bonus track)
Illusion (bonus track)
One Time (bonus track)
Act My Age (bonus track)
Earlier they announced a special offer to release 5 tracks from this album for the ones who pre-order the album now. However they were not clear as to which tracks will be released in the offer. It could be either the bonus tracks, or none of them.
1D FOUR album will be released on November 17, 2014 and pre-orders are available on iTunes and Amazon and other retailers. The above offer is only available with the deluxe edition of the album.