March Madness is upon us and NCAA released a kickass promotional video including some footage of basketball and players and of course lovely Rihanna delivering "American Oxygen" in front of an American flag. The promotional video-of 30 seconds- is backed up by Rihanna singing song in a white top, jacket and a denim–signalling full on Americana style video.
Watch Rihanna Perform "American Oxygen" for March Madness Campaign
#MarchMadness #AmericanOxygen #R8 #NavyRDie

— Rihanna (@rihanna) March 6, 2015
You could be a fan or not of the game, this video gives you all the emotions. It's perfectly done-mixed and synced.
"Breathe out, breathe in, American oxygen,

Young boy, listen to me, try and get the wheels in motion

Breathe in, just feel it, American… American Oxygen…,

A new America…"
Those few lines run through the entire teaser video. If you were not excited enough for "Higher" she teased earlier, this track should definitely should get your wheels in motion. The face she makes when singing the last part has got us fallen in love with her over-and-over again (The picture on top of the article).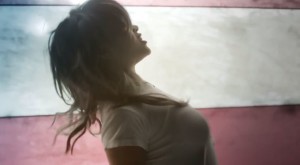 There are very strong indicators that 'R8' album will be a mega hit once it unleashes upon the world, and we cannot wait till that day.
Leave a comment about "American Oxygen" and how you think 'R8' is turning out.