I couldn't believe it back when it happened, and I still can not believe that he is gone. The irony of his departure! Rest In Peace Paul Walker-the human being.
Fast and Furious edition 7 is all about Paul Walker. The whole movie is dedicated to the memory of a dearest friend of the cast and the crew and the world. However, Wiz Khalifa's "See You Again" pushes all of us fans beyond the breaking point. You can try to fight the tears, but get some tissues ready for this.
Watch Wiz Khalifa and Charlie Puth Pay Tribute to Paul Walker in "See You Again" Song
Several footage of Paul Walker from Fast and Furious franchise has been included in the music video, surrounded by an emotional song from Wiz Khalifa and Charlie Puth. Charlie Puth specially does an amazing heartfelt chorus on the track.
"It's been a long day,

Without you my friend,

And I'll tell you all about it,

When I see you again,

We've come a long way,

From where we began,

Oh, I'll tell you all about it,

When I see you again-//"
The Piano-supported music piece is just the right mood setting to bring Paul Walker on to the screen. This follows a more hip hop beat with a rap by Wiz Khalifa. The rap still is a humble shout out to Paul Walker–about their friendship throughout the series.
"

Small turn to a friendship, a friendship
Turn into a bond and that bond will never
Be broken and the love will never get lost
And when brotherhood come first then the line
Will never be crossed established it on our own
When that line had to be drawn and that line is what
We reach so remember me when I'm gone.."

 
"

How could we not talk about family when family's all that we got?
Everything I went through you were standing there by my side
And now you gonna be with me for the last ride.."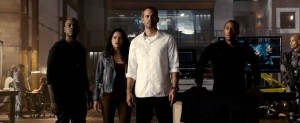 The music video takes us on an emotional journey.
The irony of the song title is not lost on us. We will never see Paul Walker again, no matter how many times the song cries out that we will "see you again". We will see him again in the heavens above. Rest in peace friend.
Leave a comment about your thoughts on the music video. Let us know how you feel about the loss of this great man.
---
Buy "See You Again" track on iTunes / Amazon
Buy Furious 7 Soundtrack on iTunes / Amazon
---