Well, who knew Nicole Scherzinger do a very accurate impersonation of the infamous "Mona Lisa Smile," like she does for the brand new music video by Will.I.Am. The music video is very creatively done with a lot of focus on art.
Will.I.Am appears inside paintings hung on a long hall of artwork and at the end of the hall is the masterpiece-Mona Lisa painting itself. And guess who's inside the Mona Lisa painting? Yes, Nicole Scherzinger.
Watch "Mona Lisa Smile"

Will.i.am – Mona Lisa Smile ft. Nicole Scherzinger by louvre
The heavily enhanced beats and tunes give put the classic Will.I.Am feel to "Mona Lisa Smile." And Nicole Scherzinger poses as beautiful as ever with her god-given vocals.
Let me tell you about my girlfriend,
My girlfriend Mona Lisa,
She let somebody take a picture
So she can be a fashionista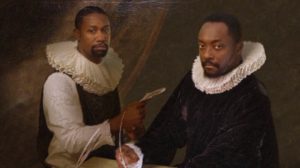 The song is about how the singer is obsessed with Lisa and her smile. Pretty much a typical love affair.
Let us know what you think about the music video by commenting below.