The former R&B sensation-R. Kelly seems to be in very hot and deep water. After battling with several legal cases over the past decade, now there is a six-part docuseries on how R. Kelly allegedly abused many women over the years. And things get worse as claims heighten to a level of paedophilia and sex cults.
Lifetime TV network premiered a six-part document series about these alleged sexual abuses, physical and mental abuse cases against R. Kelly over the years. In this docuseries titled 'Surviving R. Kelly,' a lot of content is put forward, including victims of R. Kelly's abuse. The documentary also invites other victims of R. Kelly to come out of hiding and speak up for justice.
Below is a video from the Lifetime's series of apparent victim Lisa VanAllen speaking about her experience with R. Kelly in living in his mansion, studio and sex.
However, R. Kelly seems to be having a very different opinion about these alleged sexual abuse claims against him. He released a 19-minute confession about his sins in a new track titled "I Admit." In this track, he admits that he had sex with 'younger' girls as well, but everything was purely consensual. However, he refutes claims on him regarding brainwashing females who are held captive in his mansion, which turn out to be sex cults.
'Surviving Lies' Facebook Page Tries to Expose Alleged Victims of R. Kelly's Abuse
After the release of Lifetime's 'Surviving R. Kelly,' the singer looks to have had enough with the 'lies.' An unknown person, believed to be R. Kelly himself, created a Facebook page named 'Surviving Lies' and tried to 'expose' the lies of 'victims' presented in the docuseries. For some reason, this Facebook page got put down shortly after.
Whoever is involved behind the 'Surviving Lies' FB page tried to upload screenshots of conversations/text messages with apparent victims in hopes of exposing the lies. Only hazed out silehuettes, due to the page being taken down, of the screenshots and a few people are only visible now.
But, some people did manage to capture some screenshots of the 'Surviving Lies' Facebook page before it got taken down.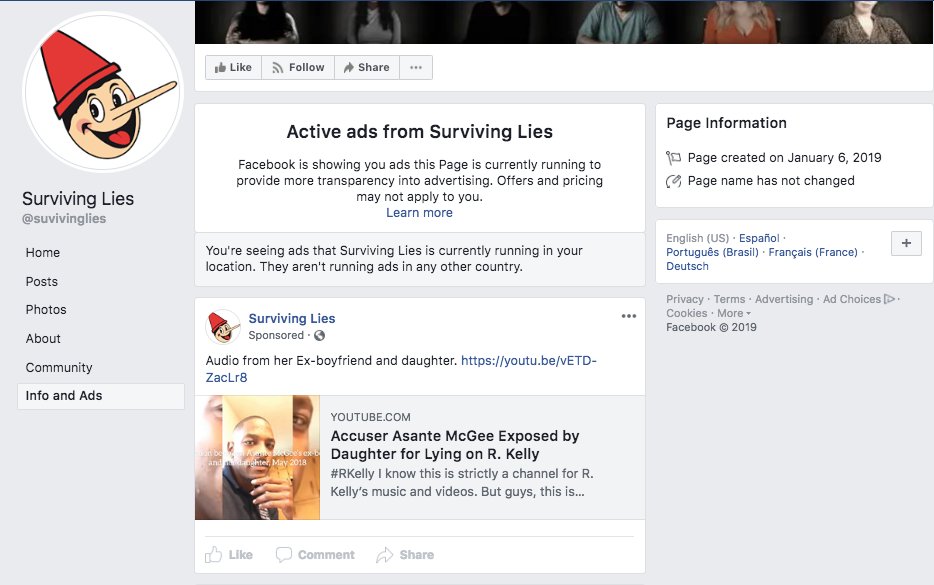 Since the Facebook page got taken down, the attempts at exposing the lies have not stopped. There is a new website in the making with the URL http://survivinglies.com. The webpage is currently hosted on GoDaddy.com and has no content as of today. However, if whoever decides to expose the 'Surviving R. Kelly' liars on this website, it will not be very easy to take this website down.
We will keep in touch with these developments to see the truth behind these accusations against Robert Kelly. In the meantime, let us know what you think about these accusations against one of the biggest R&B artists in the history of music? True or false?