Demi Lovato may have had her fair share of personal struggles in the past couple of years, but she is back on her feet, and is gearing up to release her next studio album, titled 'dancing with the devil: the art of starting over.'
The 2021 album is Demi Lovato's follow-up studio album to her 2017 project 'Tell Me You Love Me.' Since then, she released tracks "Still Have Me," "I Love Me," and "Commander in Chief" focusing on recovery but did not make it to the album. Later, at the 62nd Grammy Awards (2020), Demi debuted a brand new song "Anyone." All these songs have a common theme–getting back on her feet!
Demi Lovato has been open about her substance abuse history starting as early as 2009. In November 2010, at the age of 18, Demi Lovato entered a treatment center to help her issues. She left the program in 2011, supposedly recovered from her addiction. However, she has been in and out of her struggles since. In 2018, Demi Lovato Tweeted out that she was 6 years sober, and followed up with a single "Sober" admitting that she did relapse. Only July 24, 2018, a month after the song release, Demi Lovato suffered an overdose. However, there has been no news of her substance abuse since.
The title of her new project, 'dancing with the devil: the art of starting over,' has all sorts of 'recovery' written all over. Although 'substance abuse' is the dance with the devil, Demi Lovato suggests that she has a story to tell about recovery. So, this will be an album that is going to help a whole lot of people.
'dancing with the devil: the art of starting over' Album Artwork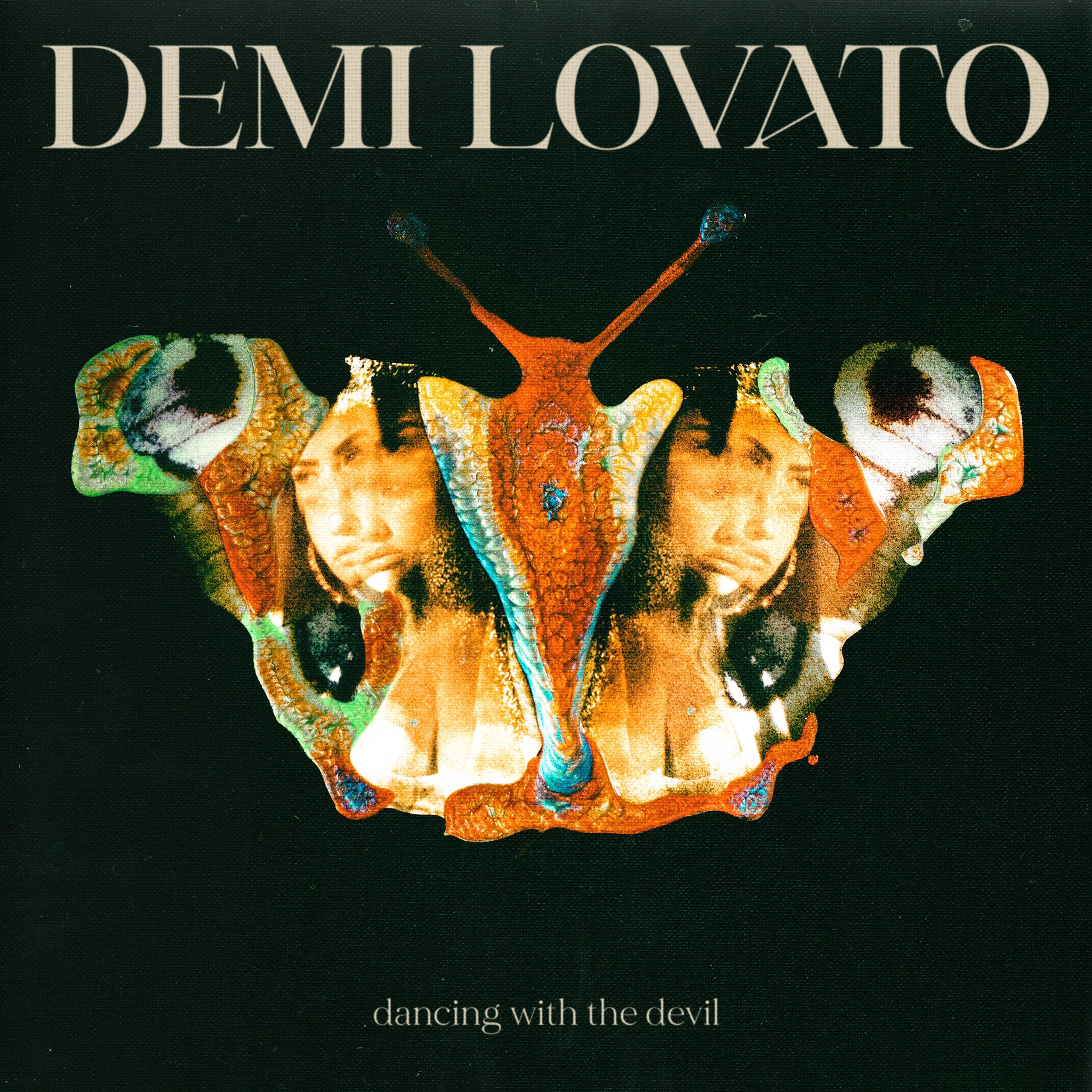 The 'trippy' album cover art in the shape of a butterfly has a lot of story behind it. The blurry and colorful images within the butterfly are symbolic of the substance abuse experience the singer endured for years and years. It's a colorful haze of nothingness. The butterfly is a classic symbol of evolution for the better. The beautiful butterfly emerges from a caterpillar and is a significant improvement over the former stages of its lifecycle. In the context of the artist, the butterfly represents her growth from her addiction phase.
---
Buy 'dancing with the devil: the art of starting over' Album on Apple Music & Amazon
---
'dancing with the devil: the art of starting over' Album Tracklist
PRELUDE
ICU (Madison's Lullaby)

THE ART OF STARTING OVER

Intro
The Art of Starting Over
Lonely People
The Way You Don't Look At Me
Met Him Last Night ft. Ariana Grande
What Other People Say ft. Sam Fischer
Carefully
The Kind of Lover I Am
Easy ft. Noah Cyrus
15 minutes
My Girlfriends are My Boyfriend ft. Saweetie
California Sober
Mad World
Butterfly
Good Place
Bonus Track
Gray
'dancing with the devil: the art of starting over' Album Release Date
The album was released on April 4, 2021.
'dancing with the devil: the art of starting over' Album Review
The album is dedicated to telling a very personal story of Demi Lovato. On the album release date, Demi Lovato Tweeted out requesting fans to listen to the album from top to bottom. The reason behind this is that each song has a story to tell and they all narrate a bigger flow of events in order.
The 'Dancing with The Devil' section of the album is about that near-fatal overdose incident Demi went through in 2018. The second part of the album is 'The Art of Starting Over' which narrates her story of recovery from everything–her drug addiction, eating disorder, and her life being manipulated by her former manager.
On the track "Melon Cake," Demi Lovato reveals how she was forced to maintain her body image to fit into the music industry. She was only allowed to eat a cake made out of watermelons for her own birthday to prevent adding any weight to her. And these restrictions trickled into much bigger issues such as degradation of her mental health and turn her towards drug abuse as well.
Loneliness and insecurities were a running theme in her life for the larger part of her life. She felt like she had to live up to everyone else's expectations for her. These emotions transformed into monsters inside her head who convinced her that drugs were the escape. And this was her ultimate 'Dance With the Devil.'
However, trying to live up to everyones' expectations, she failed to be the person who she wanted to be. She wanted to be someone that people look up to. She especially mentions her sister Madison, whom she wanted to a role model to. But she failed.
However, the album is more about 'The Art of Starting Over.' So almost every song is outlined with a positive message of recovery and growth. She is turning a new page in her life, and we are all for it.
Let us hear your favorite tracks on the album in the comments below.