Taylor Swift won a grand award at the 2022 MTV Video Music Awards (VMA), Sunday, August 28, 2022. Taylor snagged the award for the best long-form video for "All Too Well: The Short Film (10-minute version)." But, Swifties might be the biggest winners yet, as Taylor Swift went on to announce her new album 'Midnights' during her acceptance speech.
"I thought it would be a fun moment to tell you that my new album comes out Oct. 21. I will tell you more at midnight."
Of course, Taylor Swift hid the album name in this short speech, but she literally did go on to announce all the album details at midnight on August 28, 2022.
'Midnights' is the tenth studio album by Taylor Swift following her 'evermore' and 'folklore' album releases in 2020. The album comes during a rather silent period in Taylor's career, after the pandemic and also her relationship with Joe Alwyn going steady. However, Taylor Swift has been busy behind-the-scenes, re-recording her first five albums and released 'Fearless (Taylor's Version)' and 'Red (Taylor's Version)' in 2021.
The new album is titled 'Midnights' because;
"This is a collection of music written in the middle of the night, a journey through terrors and sweet dreams. The floors we pace and the demons we face. For all of us who have tossed and turned and decided to keep the lanterns lit and go searching-hoping that just maybe, when the clock strikes twelve…we'll meet ourselves."
We can already sense that Taylor Swift was wearing her exquisite songwriter pants when she wrote this album intro. We can only imagine how the songs will turn out to be. Taylor further went on to explain the inspiration behind the songs of 'Midnights';
"We lie awake in love and in fear, in turmoil and in tears. We stare at walls and drink until they speak back. We twist in our self-made cages and pray that we aren't-right this minute-about to make some fateful life-altering mistake."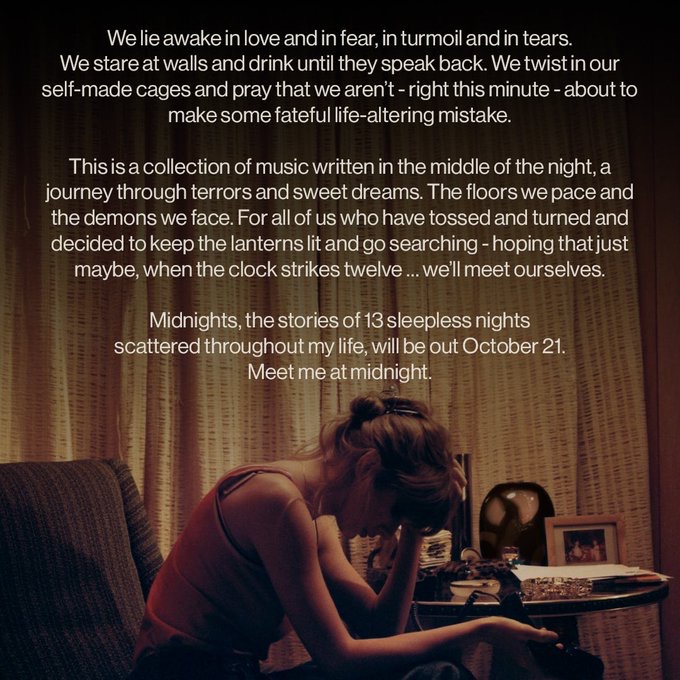 Taylor Swift and the number 13 have a beautiful relationship. It is her lucky number. So, there is little surprise that the 'Midnights' album contains thirteen songs. The album is scheduled to release on October 21st–10th month and 2+1 = 13.
Another important hint from this announcement notice is that the album will contain stories from all throughout her life. So, we are likely to hear more heartbreak stories from Taylor's past, doubt, insecurities, fears, family, and more. We might also hear stories from Taylor's present–love and living the reclusive celebrity life.
Taylor Swift 'Midnights' Album Cover
The album artwork for 'Mightnights' shows a close-up of Taylor Swift with a lit lighter in front of her face. Playing with fire? Burning thoughts? A moth attracted to flames? It could signal a million things.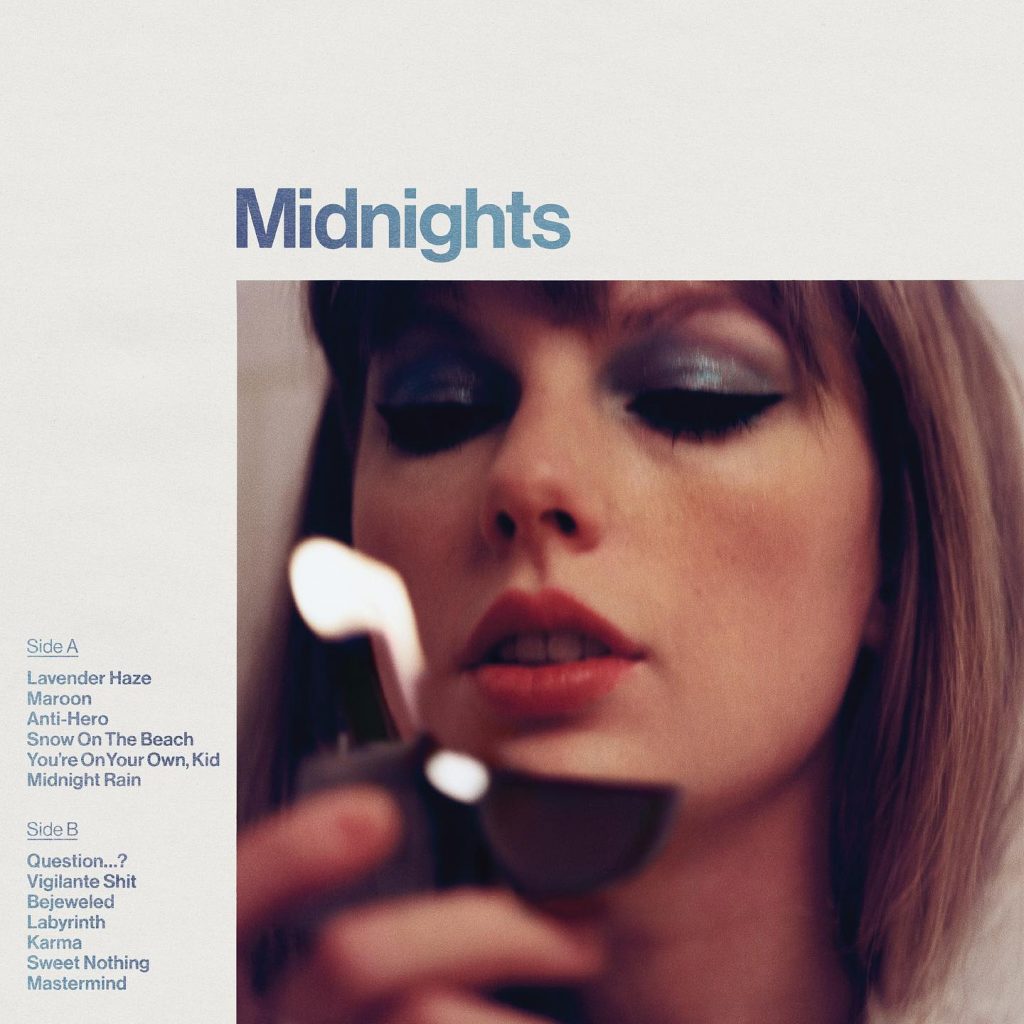 Taylor Swift 'Midnights' Album Tracklist
The tracklist titles are yet to be revealed. Only placeholder titles were released at the album announcement. However, there seem to be two sides to the album which could signify two paradigms in the stories on each side.
Side A
Side B
Labyrinth
3am Edition
The Great War
Paris
High Infidelity
Glitch
Dear Reader
Target Exclusive
You're On Your Own, Kid (Strings Remix)
Sweet Nothing (Piano Remix)
Taylor Swift 'Midnights' Album Release Date
The album was released on October 21, 2022.
Record-setting!
Taylor Swift doesn't just break records. She sets them. With the 'Midnights' album release, Taylor Swift became the only artist in Billboard Hot 100 history to occupy all top 10 spots on the chart. She even kicked out Harry Styles' "As It Was" which had never left the top 3 spots on the chart since its release 29 weeks ago.
The album also debuted at #1 spot on Billboard 200 chart giving Taylor Swift her 11th top spot on the chart. This equals her with Bruce Springsteen, Barbra Streisand, and Drake as artists with the most no.1 album debuts. Only Jay-Z (with 14) and the Beatles (with 19) have had more titles at No. 1.
Album sales
Taylor Swift's 'Midnights' album also sold over 1 million copies in the first week of its release. The album also sold 575 on vinyl–the most any album has sold on vinyl ever!