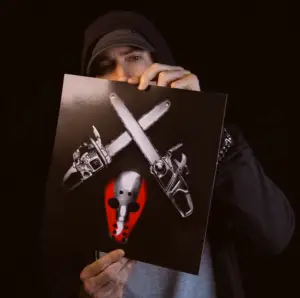 In a creepy (sort of) and short video Eminem himself revealed the cover photo or the album cover of the upcoming album SHADYXV.
Eminem concluded the final concert of The Monster Tour with Rihanna a couple of days ago. If anyone thought Eminem was gone I suggest you browse some pictures or videos of concert. Eminem is bigger than ever. This may have been his most successful tour in a long time.
Amongst all this good news is the upcoming album – SHADYXV (Shady 15). SHADYXV is scheduled to be released on August 25, 2014. Eminem took things to hand to reveal the album cover by releasing a short and creepy video of him slowly turning towards the camera with the album cover in hand. Also he did not forget to show us his famous middle finger while revealing the album cover. Classic!!!
The album cover is an interesting image. Two chainsaws crossed over a mask. The mask looks like something out of the Friday the 13th movie.
SHADYXV album is supposed to contain some of the best of the best music from the record label 'Shady Records' which was founded by Eminem in 1999. The album is being released in celebration of 15 years of its commemoration.  There is a full disc with new music from Eminem, Slaughterhouse, Bad Meets Evil, D12 and Yelawolf.