Just a few hours ago Eminem's official Facebook fan page gave us an update on the 'Guts Over Fear' music video. They uploaded a still shot from the music video and I'm just go on a hunch and say that the video will be as epic as the song itself.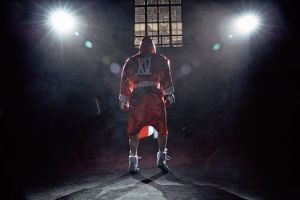 In the photo is someone who seems like a fighter–a MMA fighter? He wears a robe with XV marked on it's back. That is in reference to the SHADYXV album.
Eminem also tagged Sia who is also featured on the song. Also another musician named Emile Haynie was tagged in the picture. Emile Haynie is a music producer from New York specializing in Hip Hop, POP and Alternative Rock. The music video will be directed by 'Syndrome', in Detroit…
Along with this bit of information Eminem also announced the start of pre-order for the upcoming SHADYXV album.
Buy 'Guts Over Fear' on Amazon / iTunes
Pre-Order 'SHADYXV' on Amazon / iTunes
A few days ago Eminem revealed the official tracklisitng of SHADYXV and we crave for it now more than ever. It is a profound tracklist suitable for the Shady Records anniversary.
SHADY XV album will drop on November 24, 2014.