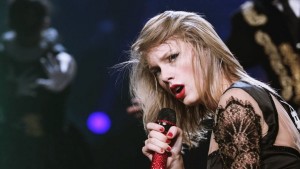 We have seen Taylor Swift dance at many events–in public. She is an awkward dancer, nobody argues about that.  But she likes to get her dance on whenever she feels the rhythm. She doesn't care where she is. If the music moves her and moving will she do.
Taylor Swift is in Tokyo, Japan these days attending some press conferences about '1989' and facing some photoshoots. When she caught a break she didn't forget to dance off to her own beat "Shake It Off" but in a completely different tune. This the 'Shake It Off' Flute version.
Watch Taylor Swift Dance to Oriental Version of 'Shake It Off'
http://instagram.com/p/vFS8exjvJJ
This is so adorable. She can only move her hips and hands in that short skirt (which looks oriental too, btw). Wish we got to see the full dance clip, we could have learned a few new moves too. Those legs though… *_*
I got to admit I really like the sound of this music. Flute and the other instrument that harmonizes the track. "Shake It Off' original music video is full of action and filled with loud drums and trumpets. LOL. This flute version is a really soothing change to that. Wish we got to see the full version.
Or maybe do an acoustic flute version of 'Shake It Off'?