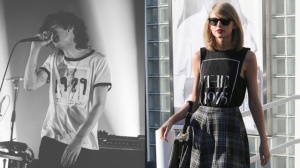 It looked as if Taylor Swift is finally taking a break from the whole 'dating' game and taking a moment for herself–there is no 'herself' time when you are a celebrity as big as Taylor Swift. It's all about her career and her fans at the moment. She is happy. We can see that in her face everytime she comes out in the public. Although "1989" speaks about a few dating fiascoes Taylor seems to be over them and she just keep on making the 'moves up as 'she' goes'. As a Swiftie, I couldn't be more happier for her.
However things may be heating up in the dating world for Taylor Swift. Another hot guy is eyeing her. This time it's Matt Healy of "The 1975" indie rock band.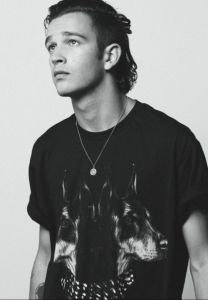 Recently Taylor Swift was spotted at a Matt Healy concert. She was with Selena Gomez and looked like they were having a great time. The following Instagram video uploaded by Taylor shows she even know the lyrics.
http://instagram.com/p/vp94SUjvGd
It was reported that Taylor even went backstage to hang out with Matt Healy.
Taylor also wore the band T-shirt i public.
….. and Matt Healy was spotted performing wearing a "1989" T-shirt. So there is an unspoken (or spoken, we don't know) level of connection between the two.
Putting all these little hints aside, let's look at what Matt Healy had to say in a recent interview.
"We exchanged numbers. Let's see what happens, she's a sensation,"
So that's what's going on behind the curtains. Yeah, she's a 'sensation', alright. Now call her up, if you have her number. LOL.
The most important thing is that this line shows Matt Healy's intentions. He is definitely interested in her. "Let's see what happens" is a definite indication that he is totally up for dating Taylor Swift. If things go as planned we may have a new couple in town. Taylor Swift and Matt Healy. Hope he does not end up just another name on the "long list of ex lovers" of Taylor.
Congratulations in advance if they start dating. They will be gorgeous together.
What is your opinion on all this?