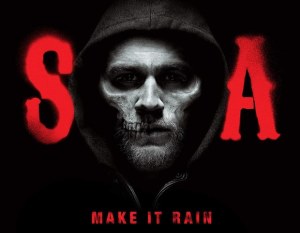 It's been a long time since I got to report on Ed Sheeran with all the Taylor Swift hysteria going on in the world right now. But whenever I do have to report about him, it's usually a very good news. Yeah, a new Ed Sheeran song kind of very good news. Just minutes ago Ed Sheeran announed on Facebook that he has released a new single "Make It Rain" from Sons of Anarchy. It's an amazingly beautiful song and add Ed Sheeran's voice to that and you have the music of the Gods.
Ed Sheeran did perform "Make It Rain" live on his 2014 world tour and it didn't still make into his album "Multiply". So where did it go? It went right into an episode of 'Sons of Anarchy' Season 7. There are two more episodes to be released in SOA Season 7 and "Make It Rain" will feature in one of them-most likely the next episode which airs December 02 on FX. If not catch it on the Sons of Anarchy Season 7 finale on December 09.
Preview "Make It Rain" by Ed Sheeran
[Source: direcylyrics.com]
Here are the lyrics to "Make It Rain" by Directlyrics.com
Got chills? Yeah, me too.
"Make It Rain" is so emotional. I'm not going to argue that it is better or worse than any of other Ed songs. But this definitely takes a top spot. This is a different kind of a song–emotional and haunting.
Buy "Make It Rain" by Ed Sheeran on iTunes and Amazon
I don't even think it takes a minute to make up your mind to buy this song. Love everything Ed does. He is undoubtedly one of the greatest gifts to music.
Besides this great news, tune into CBS on December 09 to see Ed Sheeran perform at Victoria's Secrets Fashion Show 2014.