Us, Swifities, can't really consider this a 'lost' as I have mentioned in the title. Being nominated for an honor as big as "TIME's Person Of The Year" is a huge accomplishment itself. Only a handful of people get to get shortlisted. This year there were 8 people who did an outstanding work towards the betterment of the world. Taylor Swift may be the ONLY musician to get nominated for "Person of The Year" honor! So it's a huge win for Taylor Swift and the Swifitie community.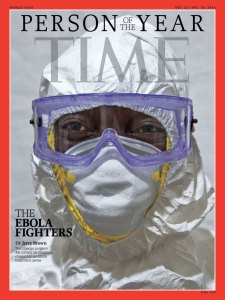 "Person Of The Year" 2014 was awarded to the people in general who have helped fight Ebola outbreak in Africa. That is a job that will test your limits. If you have not seen what Ebola virus does to good strong people, I suggest you do a quick Google search, Be careful, images are not for the weak-hearted. The people/helpers/social workers/volunteers really did God's work there helping out the affected and managing the deceased. Ebola virus is highly contagious and at a time where there is no permanent cure is developed, these people's efforts should be admired a lot more than what has been done up to now. Their massive efforts really did manage to keep the outbreak at a manageable level. I can't think of any group of people more suitable for this honor at this time. Way to go TIME magazine.
Taylor Swift was the only musician to get nominated this year. Other people who got shortlisted are;
The Ferguson protesters
The Ebola caregivers
Taylor Swift
Jack Ma
Tim Cook (introduced iPhone 6 and got nominated for "Person Of The Year", seriously?)
Masoud Barzani
Roger Goodell
Why Was Taylor Swift Nominated for "Person Of The Year"?
Amongst these great personalities is the 24 year old (1 day till her next birthday) Country/POP artist Taylor Swift–who did an outstanding job in convincing the masses and the businesses that music shouldn't be free. Artists work years and years and spend countless sleepless hours to put out an album and it should not be stolen and spread around for free. Her strong personality, her outstanding work towards Country and POP music and her stand against music piracy gave her a spot at TIME's "Person Of The Year" honor.
[polldaddy poll=8519631]
Subscribe to TIME magazine.