We haven't heard from Rihanna in a while in terms of new music. Her last album "Unapologetic" dropped way back in 2012 and since then, it seems to have created a void in music biz without any new music from Riri.
Buy Rihanna's "Unapologetic" Album on iTunes / Amazon
However Rihanna did feature on Shakira's music video for "Can't Remember to Forget You", which was so hot and steamy, it was hard to watch.
Besides this #bikinilicious and #bootilicious music video, Rihanna has not been in the spotlight in 2014, if you count-out the extremely HOT and NSFW photoshoots for different magazines. However this silence will break in 2015 and we have some pictures to prove it.
Rihanna Spotted Leaving Recording Studios, Working on "R8"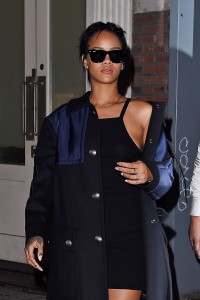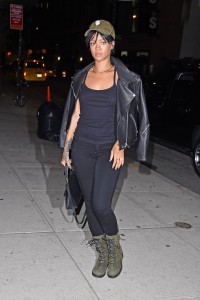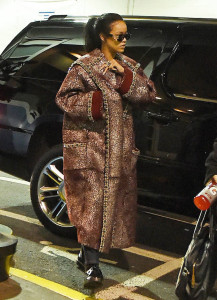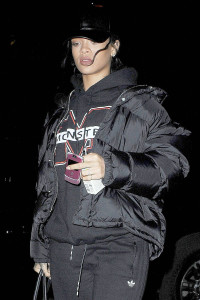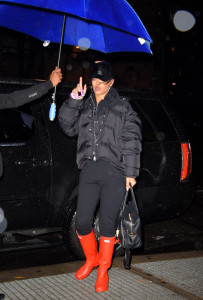 That's a total of 6 different occasions captured on camera of Rihanna visiting recording studios. All these pictures were taken during the latter part of 2014 and this is evident that Riri is speeding things up with her new album, most likely to be released in 2015.
Rihanna also teased us with a little snippet of some new music on an Instagram video.
So, in my opinion, everything is finalizing towards an epic new music album by one of the most gifted artists in the industry. And if you are as excited as me about this bit of informatin I suggest you keep in touch with our website on Facebook, or just bookmark this page. Because we will be keeping an eye on Rihanna's movements in the upcoming year.
Want something more to freak out about? Some pictures prove that we could even expect some great collaborations in "R8". Maybe even Jay-Z? Possibly.
This doesn't prove anything, of course. If not for a collaboration, we could expect some or most of the tracks to be produced by Jay-Z. Still, that is huge news. Jay-Z is one of the better music producers in the business today.
New Music Video from Rihanna?
Some other pictures prove that we could very well be looking at a new music video from Rihanna with or before the official release of the new album "R8" in 2015. We have some pictures of Rihanna and the crew in Paris recording the new music video.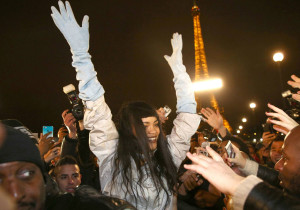 Rihanna's New Album "R8/Lost Files" Tracklist Leak
An alleged tracklist of Rihanna's upcoming album "R8" was released a while ago. In the leak the album was titled "Lost Files", and contained 14 tracks on the standard edition and 3 deluxe tracks. However Rihanna denied all information on it. She then tweeted the following.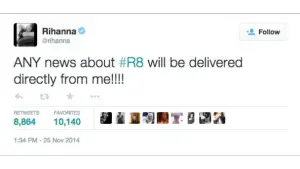 So don't believe anything you see until Rihanna officially gives the word out. But do believe us, seriously!
All pictures were taken from HawtCelebs.com
We can't wait for the new album. I have no doubts that it will be good and will rule the entire year of 2015. How excited are you for the upcoming album? Leave a comment about Rihanna, the "R8" album, any inside information you know or anything you want.