Sir Paul McCartney is having a great start to the new year. He is literally collaborating with a handful of artists at the moment. First, we got to listen to "Only One" by Kanye West featuring a beautiful piano music by Paul McCartney. And rumors are that there will be more Paul McCartney material on Kanye West's upcoming album this year. Then, most recently we got to listen/watch "FourFiveSeconds" song by Rihanna which featured Paul McCartney with a guitar. Now we have evidence that Lady Gaga and Paul McCartney are working together on some new music.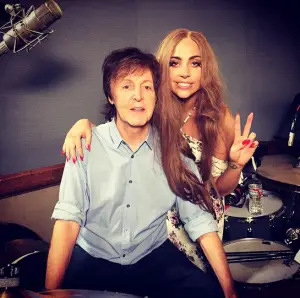 Lady Gaga and Paul McCartney Are In The Studio Doing 'Sessions'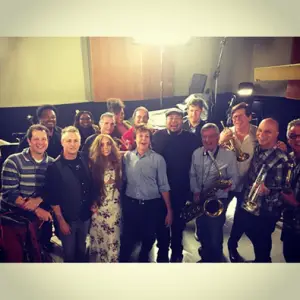 Along with the above picture, Lady Gaga captioned:
'Had a beautiful session with Sir Paul McCartney and friends. Working on one of his many secret projects! Killer musicians, vibe, and lots of laughs.'

 
Emphasize on 'his many secret projects'. Could this mean Lady Gaga is featuring on a new track by Paul McCartney? Having all of McCartney's band at the studio further solidifies this argument. But it could be the other way around. Either way we cannot wait for a Lady Gaga and Paul McCartney collaboration.
Lady Gaga Hangs Up Phone on Sir Paul McCartney
Apparently this is not the first time Sir Paul McCartney had tried to make some music with Lady Gaga. He himself had called Lady Gaga up and she had assumed it was a prank call and hung up the phone on him. LOL.
"I'll never forget when he called me last year to work and I hung up the phone cuz I thought it was a prank!"
With that we take off with our fingers crossed for some amazing music from a collaboration of these two great artists. Let us know how excited you are!