The first single off of Madonna's 'Rebel Heart' album is "Living for Love" and was released back in December 2014. Along with the single she also released 5 other songs from the album on the same day. "Living for Love" is a great track, and the music video that just released is even better.
Watch "Living for Love" Music Video by Madonna
The song gives out a strong message, for those who dare to listen to the lyrics. Let us know what you think about the song and the music video.
Madonna first teased the music video on Snapchat (Yeah, such an unlikely place to promote a music video), and it went viral, obviously.
Madonna acts as a matador in the music video to a set of bulls (men dressed as bulls), and she emerges victorious.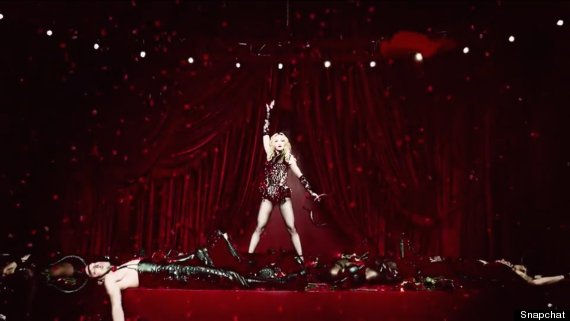 It's a shame that 'Rebel Heart' album got leaked weeks before the scheduled release date. Even the release of six songs (as mentioned above) in last December was largely due to an alleged leak of the full tracklist of the album. The album has 25 songs, so it is a huge hit on Madonna. The albums have been leaking online almost everytime before the release date. We will try to make the best out of a worst situation by trying to let you preview the album before you buy it.
Anyway, to lighten to the moods, Madonna is one of the artists who will be performing on the 57th Grammy Awards held this Sunday (Feb 8) and she will perform "Living for Love" live there. So stay tuned for that as well.