Taylor Swift can be so proud of her fan base. They stick with her through thick and thin. Back when 'Speak Now' album defined pretty much the lowest point in Taylor's persona life, Swifities were there for her in every way possible. Now in the '1989' era, Taylor Swift is making her own moves and dancing to her own beat, and the Swifties are on cloud number 9. Anyway we came to talk about the hype building around the upcoming "Style" music video and lets get to it.
When Is "Style" Music Video Coming Out?
This is a rhetorical question to ourselves because we have no idea when it is coming out, but we can definitely say it is just around the corner. Why? Because "Style" is being released as a single tomorrow, on February 10, 2015. And we know there is a music video for it. So those are the information we know for sure. Everything else is what we connect the dots.
Scott Borchetta's Latest Tweet Which Got Deleted Immediately
For those who don't know, Scott Borchetta is the founder of Big Machine Records, which is Taylor Swift's record label. Taylor must be Scott's best client and he is definitely very closely involved with her music. Yesterday Scott Borchetta tweeted this and deleted it immediately after.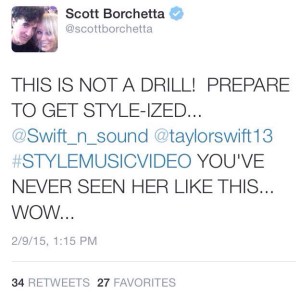 So we don't know in what mindset he tweeted this tweet about the upcoming "Style" music video, but we certainly know it was a mistake, or he later decided against it. So the tweet was deleted shortly after. But it only takes a second to spread wildfire on the Internet, and this tweet made millions of rounds on Tumblr.
So let's analyse this situation. Why did Scott Borchetta tweet about the "Style" music video? One explanation is, he got the dates wrong. And I don't believe one can mistake weeks. Days, you could get confused easily. So did he accidentally believed it was "Style" release date and then later realized it wasn't?
Another explanation is, it was in fact "Style" music video release date (feb 9), but something came up and they decided against it.
And then this happened: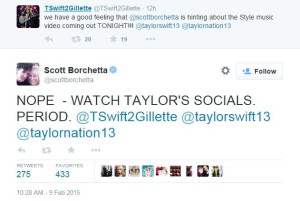 He then started teasing Taylor Swift fans.
AS ALWAYS, WATCH TAYLOR'S SOCIALS FOR ALL THINGS TS… 🙂

— Scott Borchetta (@scottborchetta) February 9, 2015
So he basically shuts down after asking Swifties to stay tuned with Taylor's many many social media outlets. Taylor Swift is most active on her Tumblr, and later yesterday she posted this.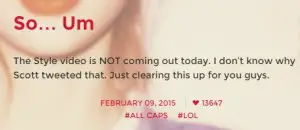 That's pretty much all official information about it. I don't think Taylor Swift would lie about it just to maintain the element of surprise. So we can definitely cut off Feb 9 from possible "Style" music video release dates. Swifities are freaking out on Tumblr, Facebook, Instagram, Twitter and probably a dozen more social media.
"Stye" Music Video Release Along with The Single?
"Stye" single is releasing today. So we can be, about 80%, confident that the music video will release along with the single. Taylor did not mention anything about the music video releasing tomorrow (Feb 10), so we can hope right? Also it would make a lot of sense to release the music video along with the single.
We know the music video is ready, and it's just a matter of being uploaded to YouTube. Else Scott Borchetta would not tweet that. So we know the Style-ized music video is coming out sooner than later.
Our bet would be Feb 10, 2015. What are your thoughts?