Twitterspehere is blowing up with the amazing Kanye West interview that just happened with Ryan Seacrest. Kanye West has spoken about his snub on Beck and on racism quite philosophically. Yes, I said 'philosophically' and that's an appropriate word. Take a look at what Kanye said about racism.

And he also went on to admire the work of Beck.
This doesn't justify the rant he made about Beck after leaving the Grammys. But at least he was humble enough to say this out loud.
Anyway, we are here to speak about the title of the article, which was, is and will be quite a shock.
We know how Taylor Swift and Kanye West put aside their past mistakes behind them and talked, smiled, lughed, HUGGED and took photos with each other at the Grammy Awards. Looks like they have not just stopped there. Apparently, Kanye Wes wants to make music with Taylor Swift now. Talk about escalating of a friendship.
Kanye West Wants to Make Music with Taylor Swift
In the interview with Ryan Seacrest, Kanye West says that Taylor Swift showed interest in producing music with him. And this is what Ryan Seacrest had to tweet.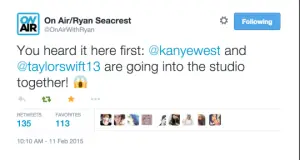 When asked about if he (Kanye) wants to collaborate with Taylor Swift, this is what he said.
Yeah, she wants to get in the studio and we're definitely going to go in. Any artist with an amazing point of view, perspective, fan base, I'm down to get in the studio and work. I don't discriminate, I don't have an elitism of music because of like how many Grammys or you know, the amount of ratings you get on an album. I that think everyone loves music whether they love hip-hop, alternative, country, and if I could be involved in giving people any type of energy, advice in the studio, whether you're Beyonce, whether you're Taylor Swift, whether you're Jay Z, whether you're Beck, whoever, and they can be reciprocal with that, I'd like to be involved with that.
This Tweet is two steps ahead of what Kanye actually said, though. He said he would be interested to work with Taylor Swift to produce music, having shows the same interest by Taylor Swift as well. They have shown interest in a collaboration and that's about it for now. So there is no guarantee that this plan would go through. But why not, right?
And this Tumblr post by sadbeautifultragic wins the day.

We wouldn't mind hearing some Kanye-Taylor collaboration though. I always wanted to see Taylor being pushed out of her comfort zone. The move in to Pop was surely an answer for my cry. But Hip Hop and Rap is different game. I'm quite certain Taylor will excel in that too. So why not give this a try, huh Taylor?
Leave a comment about what would it be like for two entirely contrasting artists such as Kanye West and Taylor Swift to collaborate on a new song?
While you think of an answer to that, we are going to leave you with another quote from Kanye West interview. WOW.
"How can the American dream be about a foreign car?" — @kanyewest pic.twitter.com/3XVj5JwGRY

— On Air/Ryan Seacrest (@OnAirWithRyan) February 11, 2015